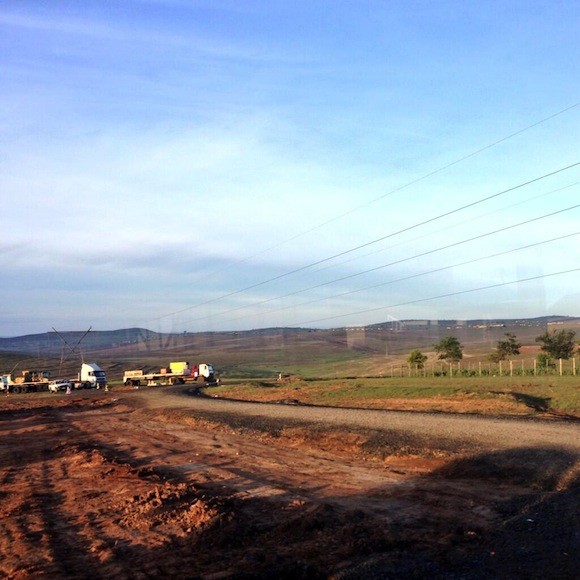 SINN FEIN leader Gerry Adams says the homeland of Nelson Mandela reminded him of Donegal.
The politician has been given a special role in the funeral of Mandela, marking the close links between the Provisional IRA and the ANC in the 80s and 90s.
Those links were so close that the apartheid regime sent hundreds of weapons to the UVF and the UDA (and the Ulster Resistance) to kill Catholics in the North.
Mr Adams has found himself defending the so-called Armed Struggle in recent weeks amid criticism from the Dublin media.
But Mandela was an advocate of the Republican Movement, writing in his memoirs about IRA hunger striker Bobby Sands,
This morning in South Africa Gerry Adams tweeted this picture  – saying it reminded him of Magherallon, 7km from his Donegal home.
Mr Mandela's Thembu community will conduct a traditional Xhosa ceremony – including songs and poems about Mr Mandela's life and his achievements.
An ox will be slaughtered. A family elder will stay near the coffin, which has been draped with a lion's skin, to talk "to the body's spirit".
Presidents from Africa, several prime ministers, the Iranian vice-president and the Prince of Wales are expected to attend the funeral.
Archbishop Desmond Tutu – a long-time friend of Nelson Mandela – has confirmed he will be present, having earlier said he had cancelled his flight as he had not received an invitation.
The South African government had earlier said the archbishop was accredited, but that no formal invitations had been sent out.
On Saturday, Mr Mandela's coffin was flown from Waterkloof airbase in Pretoria on a C130 military aircraft, escorted by two fighter jets. It later landed at Mthatha airport, some 700km (450 miles) away.
In line with tribal custom, Nelson Mandela's grandson Mandla accompanied him on the journey, speaking to his coffin to tell him he was on his way home to rest.
RIP