Michael Murphy was the toast of his native Donegal today when he received a civic reception in honour of his sporting achievements.
The 24 year old Glenswilly man has packed more into his career already than most veterans would hope to achieve in a lifetime.
Michael was surrounded by family and friends as he received the honour at council chambers in Lifford.
As well as his proud mother and father Mick and Mary, Michael was accompanied by his grandfather, 85 year old Joe Hutchinson from Buncrana.
Mayor of Donegal Cllr Ian McGarvey said young people should look to Michael if they wanted to make their families proud.
Michael's father Mick said he was delighted for his son and paid tribute to the GAA star's mother Mary.
"There is no way around it. I am delighted for all the great things that have been said about Michael but I have to reveal that his mother has him spoiled including allowing him to get as much sleep as he can."
Michael himself said he was completely taken by surprise by the honour.
"I was shocked, I always thought these events were for people in the later years. But I do appreciate it.
"I have been very fortunate as a footballer and a person to have achieved what I have.
"I have been fortunate to have such a good family, such a good club and such good friends.
"I would like to thank my mother and father. Some people say I am spoiled and maybe I am but I would like to think it has made me what I am today," he said.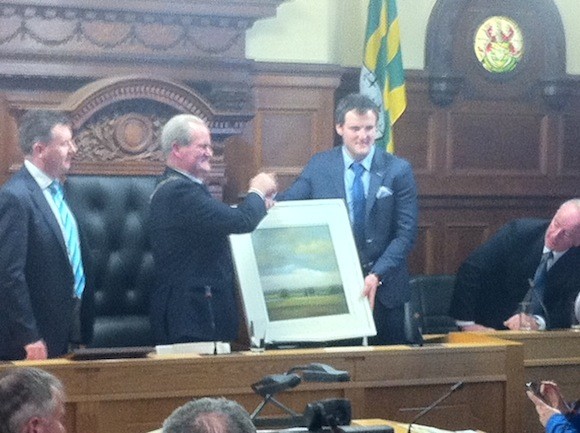 Mayor McGarvey said "He was nominated by Cllr Ciaran Brogan and it was backed 100% by all the members who recognised the achievements of this young man.
"People ask themselves who they can be. All they have to do is to look at how Michael has conducted himself.
"I know the dedication he has had to put in but it shows that the dedication can p[ay off in the end," he said.
Liam Ward, Director of Services at Donegal County Council said he had watched Michael from a very early age – and was not always happy to have done so.
"This is very proud moment for Michael and his family an his entire community of Glenswilly for what is a tremendous and proud day.
"There can be no more special way than is bestowed on him today.
"It was a special time for Donegal when we won the All Ireland final and the council recognizes that and the part sport plays in everyday life.
"The council has recognised a lot of other sports including kick-boxing, hurling and soccer.
"We are living in challenging times and it is important for our young people to have outlets to express their talents and skills.
"It is also important for them to have role models. In Michael we have that.
"I have watched Michael playing from Under 12 level right up to senior level.
"I have to say I wasn't always supporting him. I do remember from being involved with Glenfin GAA club coming off the wrong end of a defeat with Michael having scored a personal tally of 1-12," he said.
Cllr Ciaran Brogan said it was his honour to be able to nominate Michael for the civic reception.
"I decided because of the huge contribution to football and how he has changed the lives of many that I would nominate him.
"I can say today that Michael Murphy has and will changed the lives of many people. Sometimes we leave it too late to recognise people but I think it is important that we embrace it now.
"He is an only child but can you imagine what we could have done if Mick and Mary had have had half a dozen children," he said.
Cllr Noel McBride, of Fine Gael, said everyone around Ireland and further afield knew the name Michael Murphy for all the right reasons.
"You are probably one of the best-known footballers in the 32 counties. No matter where we go we are asked about you and the name of Michael Murphy comes up.
"We can all be so proud of how you have elevated out county.
"You always say it is a team effort but you played a very large part of that.
"You have done us so proud and we thank you today.
"I simply ask you to savour the moment. It is a big day for you and your family," he said.
Cllr Mick Quinn of Sinn Fein said he had known Michael for a long time as a neighbour of his from Glenswilly.
He said anytime he sees him on TV or hears him on radio, he is proud to say he is one of ours.
"He is the topic of conversation in households all over Donegal and I have that myself in my own house.
"As well as having a footballing talent he also has the dedication that is needed to hone that talent.
"But it is the respect that he shows for everyone is that people remember him by. He is a hugely decent human being.
"There is a summer camp in Glenswilly and the highlight of that is the last day because the kids know that Michael is going to turn up.
"The amount of time that he puts aside for his local community is amazing," he said.
Cllr John Campbell spoke on behalf of the Independents.
"It used to be when I was going to college that people spoke of Donegal and Daniel O'Donnell but it is now Michael Murphy.
"The commitment that you give to young people in your community and across Donegal is immense.
"I feel your best years have yet to come and I feel you will be back here again with an even biggest list of honours," he said.
Cllr Martin Farren, on behalf of the Labour Party, said it was no accident that he was such a good footballer as he was a third cousin!
"I know your grandfather Joe is very proud and your late grandmother Sheila was so proud of you.
"I would just like to wish you all the best for the future," he said.
Tags: