A doctor who was found guilty of professional misconduct received a reference from a consultant at Letterkenny General Hospital.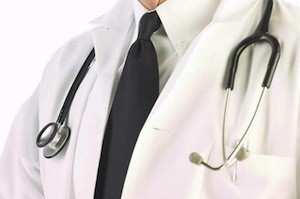 A three-day inquiry into the doctor revealed he tried to read an X-ray upside down and used a scalpel in an attempt to insert a tube into a patient.
Dr Vincent Osunkwo was described as "a threat to patient safety" and "lacking in basic medical knowledge that could be expected of a medical student".
He was found guilty of six allegations of professional misconduct and four of the lesser charge of poor professional performance arising out of his time in Midland Regional Hospital Portlaoise between March 9 and April 12, 2009.
Dr Osunkwo, who had previously worked in Crumlin Children's Hospital, had successfully obtained references from this hospital and from a consultant in Letterkenny hospital, the inquiry was told.
He was employed as a senior house officer in Portlaoise hospital after emerging as the sole applicant for the job.
The inquiry heard from a nurse who worked with Dr Osunkwo of how she had to snatch a scalpel from his hand moments before he was about to cut into an elderly patient's vein in order to take a blood sample.
The nurse told how she cried "Jesus, what are you doing?" to Dr Osunkwo. She said that she honestly did not believe he was a proper doctor.
Another nurse said she saw Dr Osunkwo trying to insert a cannula, or tube, into a young man with a total of six puncture wounds in his arms.
"I noticed there was blood running down the patient's arm. I pulled the curtains and asked the doctor what he was doing," she said. The nurse said the patient was "quite alarmed" and looked relieved when she came.
Among the allegations found to have been proven against Dr Osunkwo were that he told members of his medical team that a patient was "fine" when that patient was in fact receiving oxygen in intensive care, and that he asked a nurse if a patient's pulse rate of 165 beats per minute was high.
The fitness-to-practise inquiry's decision on Dr Osunkwo will now be forwarded to the board of the Medical Council, which will decide what penalty should be imposed upon him.
He could face being struck off the register under medical council guidelines.
Tags: