BREAKING NEWS: There will be widespread snow overnight in Co Donegal, the BBC has reported tonight.
BBC Northern Ireland said snow will hit most parts of the county, with most of it due before dawn.
Donegal County Council gritting lorries will be working on main routes through the night.
It follows a storm earlier – though winds will continue at gale force level throughout the night.
ESB staff have spent the evening restoring power to thousands of homes.
As of 10:30pm 5,000 homes were still without power.
A man cheated serious injury when  a tree his his car on the Milford to Kilmacrennan Road.
There has been structural damage to homes and business throughout the county.
HOW the storm happened TIMELINE is below:
10.38pm Patrick writes: Roof tiles fallen from the old County Seat and Clarkes Newsagents in Letterkenny.  Tree blocking road up Kirkstown/Killylastin.
Trees down in tesco car park also.
10:10pm. ESB doing sterling work in reconnecting homes. 3,000 in Ballybofey, Buncrana and other areas back on. But around 5,000 still with lights out.
9.52pm: A driver has had a miraculous escape after a large tree came crash down on his bonnet. The incident happened just after 9.15 pm this evening on the Milford to Kilmacrennan Road.
An eye witness said the man managed to step out of the car but said he could have been seriously injured. Gardai are now on the scene are directing traffic back the way they came.
The large tree has blocked off the entire road.
9.47pm: Relatives of passengers reporting the Dublin to Donegal flight this evening has returned to Dublin following several failed landing attempts at Carrickfin. Dublin Airport 'live flight' info showing flight status as "En Route" at 9.45pm
9.40pm: Violent wind gusts reported in various parts of the Rosses – major power outage affecting homes in parts of Burtonport area near the Roshine and Lackbeg areas. Public street lighting along the N56 is out in Loughanure village although no premises are affected. A charity table quiz in aid of Piermont House, Dungloe in Caisleain Oir, Annagry tonight has been postponed until tomorrow night.
9.28pm: Structural damage to homes in the Letterkenny area, say residents. Buses stranded on the pier in Donegal Town. Oisin McLaughlin sent this pic.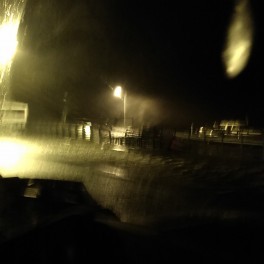 9.24pm: 3,742 homes in the Dunfanaghy, Cresslough and surrounding areas now without power. That makes it 8,000 in Donegal alone tonight. If you've still got power and want a cuppa later, fill those flasks now.
9:17pm: 62o homes lose power in Killybegs, taking total in Co Donegal close to 5,000.
8.50pm: Tom Kelly writes: Major flooding near Manorcunningham. Corkey – Labbadish road impassable.
8.37pm: 131km/hr gust on Aranmore. Electricity out in 2,796 homes in Gaoth Dobhair and almost 500 homes in Dungloe.
8.03pm: Reports of mobile homes being damaged in Downings and Rossnowlagh. Reader in Carrickfin writes: "The house feels as though it's being blown away." Inland at Castlefin another reader tells us: "Kicking off big time now." Roof blown off barn near Ramelton, Sky TV is down and letterboxes chattering, reports reader near Clooney.
7.55pm: 1,134 homes in Ballybofey lose power as winds increase. Estimated time of reconnection by ESB in 11.15pm. More than 60 homes in Buncrana are also now without power.
7.35pm: Gardai say there is heaving flooding on the Glenties to Letterkenny Road. Sadly a woman has died after a tree hit her car in Mullingar, the Garda Press Office has just announced.
7.25pm: Winds increasing, especially in south Donegal. Reports of flooding in homes in Letterkenny. Derry Daily reporting that the Christmas Market in Guildhall Square has been closed down for the evening.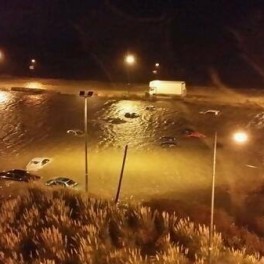 Flooding in Salthill earlier – with cars under water
7.00pm: Daniel in Galway writes: "Absolutely crazy in Salthill. Debris flying everywhere."
6.49pm: Just to give you an idea of what's coming. Wind gust in Galway of 144km/hr.
6.38pm: Winds expected to increase again in south Donegal around 7.30pm.
6.30pm: John McAteer, editor of the Tirconail Tribune reports "There is severe flooding on all roads around Milford, Kerrykeel, Cranford, Fanad and Kilmacrennan. Proceed with extreme care and do not travel unless it is an emergency as winds are now increasing."
6.16pm: Reader Marie Ferry in Falcarragh reports heavy rain there in the past few minutes.
6:14pm: Action plan at Letterkenny General Hospital to prevent repeat of flooding there last July. All systems reported working.
5.50pm: Major flooding has been reported on the main Letterkenny to Derry Road at Manorcunningham. Motorists are being advised to slow down and use extreme caution.
5.25pm: Winds are easing but will pick up again in the next hour. The storm warned of by Met Eireann hasn't even started yet.
5.00pm: Possibility of snow later on. Donegal County Council will be gritting major routes from 9pm as a precaution. Getting very windy. Reader in Gaoth Dobhair says it is "extremely windy" there in past few minutes. The roof has been blown off the Kent Street Train Station in Cork. One person has been injured. A motorist has also been hurt in Co Westmeath. 15,000 homes are without power.
4.45pm. Power outages across the south, with trees down in Cork, Kilkenny and Waterford. Worst of the power outages in Galway and Mayo although there are also faults in Dublin. Torrential rain still falling in Donegal.
4pm: Heavy rain is now widespread across the county. This is leading to difficult driving conditions in many areas.
There is flooding on several roads including in and around Donegal Town, Letterkenny, Buncrana, Ramelton, Milford and Buncrana.
Garda patrols have been stepped up. Winds are currently gusting at 60 to 70km/hr.
Met Eireann says the worst of the storm will be after 6pm, the time when the Red Alert warning kicks in – with hurricane force wind gusts of up to 150km/hr.
Tags: