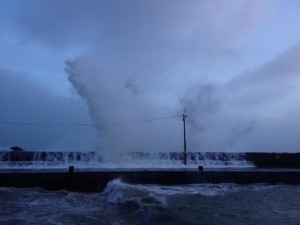 TODAY'S storm in County Donegal could be the worst in 30 years, an independent insurance assessor has warned.
Roger White says he fears lack of national media attention on a storm alert – along with the downplaying of the storm locally – could be dangerous.
An Orange Alert was issued by Met Eireann last night. The worst of the storm will be between 3pm today and midnight tonight.
"There is possibility that this could be the worst storm in 30 years heading to Donegal on Wednesday and Thursday," said the Bundoran based assessor.
"Given the predicted sheer force of this I am predicting power will be down in a lot of the west Donegal for a number of days and the level of destruction is due to be significant.
"People should prepare for the worst. If it doesn't turn out that way, then no harm done."
His recommendations from years of experience are as follows:
* Have candles/torches at the ready. Widespread electric power line falls are inevitable in Donegal
* If you have stove or fireplace get some logs/coal/turf to keep your home warm.
* Before noon today get all loose garden furniture/trampolines into shed/garage. If not you risk them going through your windows/patio doors. I have even seen a trampoline going through a roof!
* DO NOT GO ANYWHERE NEAR a downed power line. It has happened with tragic consequences.
Mr White said he expects to be busy over the next few days.
"We help property owners when they suffer damage," he said.
"I expect my phone will be busy, so anyone who needs to get in touch should email me. whiteclaims@gmail.com."
Winds are predicted to gust to 120km/hr by Met Eireann this evening, or even up to 130km/hr during gales and severe gales.
Tags: