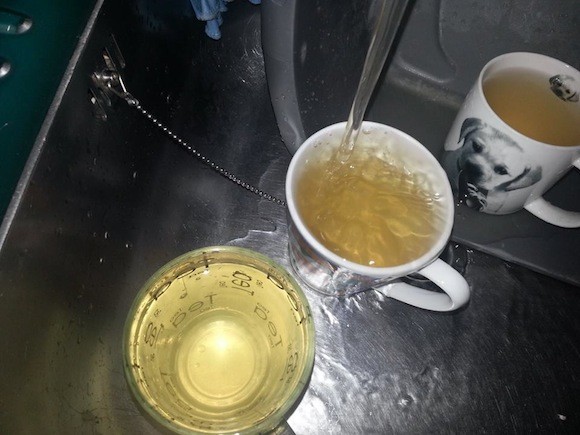 RESIDENTS in Drumkeen have joined the national chorus of discontent over water charges – for water which looks like this!
Michelle Buchanan is asking a simple question of the Taoiseach: "Would you pay to drink or bathe in this?"
She says residents are fed up with their supply.
And from the New Year Irish Water will be responsible for delivering clean water to residents in Co Donegal.
Said Michelle: "It's bad enough that we are expected to use this water without having to pay for it. It's a joke.
"My question is simple – would Mr Kenny of Phil Hogan pay for this?"
She spoke out after a row in the Dail yesterday.
Luke Ming Flanagan gave a Minister a glass of dirty water which he described as "glorified piss", during a debate on the Water Services Bill.
The Roscommon-South Leitrim deputy was criticising the decision to charge for water provision pointing out that constituents of his outside Castlerea are being "forced" to use tap water which is contaminated with cryptosporidium.
"The people in my area are expected to drink glorified piss and you're going to charge them for it, but the reality is we're not going to pay for it," he said.
Flanagan then challenged the Minister of State Fergus O'Dowd to drink the water before marching across the chamber and placing it beside him and walking out.
Donegal TD Thomas Pringle lashed out at how the government has dealt with the Water Services Bill following a mass opposition walkout on the Bill, describing it as a 'farce'.
"This Bill which is the backbone of how Irish Water is going to work, including how they will set water charges, was given a measly 3 hours to go through all stages in the Dáil which is an absolute disgrace and an affront to democracy, something which has become a common feature of this current Fine Gael/Labour government. Today myself and fellow opposition TDs staged a mass walkout in the Dáil in response to the government's insistence on rushing through this important legislation.
"There are many parts of this Bill that causes great concern, not least that there are no protections for consumers, allowing Irish Water to apply for price hikes whenever they wish. It has even been said that they may seek a hike in charges if households become more efficient and use less water making them less profit, which is utterly bizarre.
"If that wasn't bad enough there are no protections for local authority staff at the end of service level agreement after 12 years which could leave them in a very difficult situation, particularly if the government decides to sell off Irish Water then. This also leads to legacy pensions of Irish Water staff with the local authorities, leaving the local authorities without any means to recoup the cost.
"I had proposed amendments to deal with all of these issues, but unfortunately they won't be heard now; all we wanted was adequate time to debate this Bill, but the government denied us that. It's unlikely that the government will see the error of their ways, but it is the responsibility of public representatives to continue to fight against any wrongs made against the Irish people, and that is what we have done today," stated Pringle.
Tags: