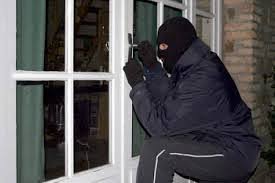 CRUEL THIEVES robbed a pensioner while at Mass at the weekend and tried to rob another in her home – as Gardaí warned that burglars are operating in Donegal this week.
The latest victim – a woman in her 80s – returned to her home in Glengad in Inishowen to find the house ransacked.
Christmas presents were among the items take in the raid. Local people have put together a €1,000 award leading to the capture of those responsible.
There have been a number of other burglaries across Co Donegal in the past 48 hours, with warnings in rural areas, particularly in Fanad and Inishowen.
Three men tried to break into the home of a 75-year-old woman in Kerrykeel in another incident.
"It is just ridiculous," said a neighbour of the Glengad victim, "how anyone could raid the home of a pensioner while she was at Mass is beyond belief."
Anyone with information on the Glengad burglary should call Gardaí on 074 93 74109.
Other incidents in the county came just hours after Gardaí issued a public Christmas safety message.
Thieves have also targeted revellers out and about over the weekend, with Nicolle Toland having cash and a phone stolen in Letterkenny.
Sgt Paul Wallace told Donegal Daily: "Unfortunately there are people who see Christmas as a time to steal, an opportunity.
"The lead in to the busy Christmas period is identified as an ideal opportunity to promote crime prevention and encourage awareness.
"Although it is the time of the year where the majority of us will practice the tradition of giving gifts, unfortunately the majority of burglars view it very differently and see the festive season as an opportune time to break into a home."
To help prevent burglaries from happening over the festive season the Garda Community Relations Bureau would like to share the following tips:
Going Away For the Festive Holiday
• Avoid discussing any holiday plans or planned Christmas outings on any types of social media or in public where strangers may hear or view details of your absence from home.
• Make your home look like someone is living in it.
• Cancel any newspaper or milk deliveries.
• Trusted neighbours and friends may be able to help you by collecting your
post, opening and closing curtains and they could park their car in your
driveway.
• Leave important documents and valuable items with other family members
or a bank. Alternatively lock them in a safe.
• Do not put your home address on your luggage when you are travelling to
your holiday destination. A work address will suffice if you want to label your
luggage.
• If you normally leave valuable bicycles or similar items in your shed, consider
putting them in the house.
• Check the locks on any gates or sheds and upgrade/replace if necessary. Make sure anything that can be used by a burglar to gain entry to your property i.e. garden tools are safely locked away.
• Make sure that you lock all outside doors and windows and set your house alarm if you have one.
At Home
• Lock and bolt your doors and windows.
• If you used a ladder to put up outside decorations remember to put it away
after, preferably in a locked shed. Remember bins and ladders could be used
to access first floor windows by a potential burglar.
• Remember never leave any presents or valuables where they can be seen by
a burglar i.e. in view of a window! Consider putting presents under the
Christmas tree early on Christmas morning.
• Keep out any unwanted visitors ‐ it is always a good idea to have a door
viewer or chain fitted to your front door especially in the holiday season
where you are likely to receive more visitors to your home.
• Consider fitting exterior lights with sensors in the garden and front of your house. This will help to deter a burglar as they are more confident when
working in the dark.
• If you are expecting a parcel, make sure someone is there when it is
delivered, or ask a neighbour to take it in. Avoid having it left on the door
step.
• Keep keys, mobile phones, purses, wallets and other valuable items locked
away out of sight.
• Don't leave your keys in the door at any time.
• Never leave keys in view of the windows or doors.
• Once you've opened all your gifts, don't leave the boxes on view outside to
advertise your good fortune to criminals.
Tags: