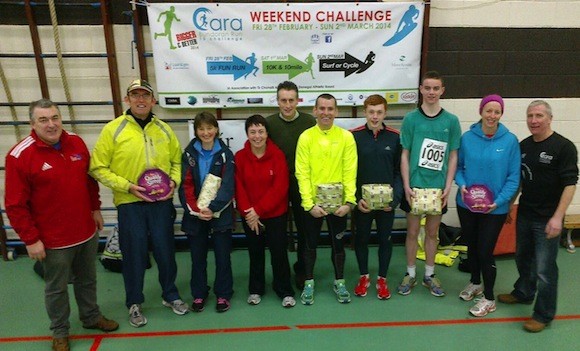 Daniel Gallagher ran 17mis.08secs to win the Tir Chonaill AC Jingle Bells 5k  at Donegal Town.
In 'far from ideal conditions' the Dunkineely youngster was an impressive winner from Michael Murphy Tullamore Harriers with 17 years old Mark Boyle from Tir Chonaill in 3rd. Philomena Gallagher, Tir honaill AC, Brigid Mohan, Inishowen and Sharon Thomas Tir Chonaill were the first three women home.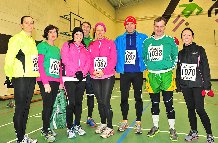 All 70 participants plus the organising committee who braved the rain and stormy conditions were all winners. Following the event club Chairman Paul O'Gara thanked all for supporting the event -'when it would have been much easier to stay in bed' and presented €500 to Frank O'Donnell, SVP Donegal Town.
Tir Chonaill AC Jingle Bells 5k results 11m 22/12/2013
| | | | | | |
| --- | --- | --- | --- | --- | --- |
| Place | Time | First Name | Surname | Category | Club |
| 1 | 17.08 | Daniel | Gallagher | JM | Tir Chonaill |
| 2 | 17.32 | Michael | Murphy | SM | Tullamore |
| 3 | 19.11 | Mark | Boyle | JM | Tir Chonaill |
| 4 | 19.27 | Christopher | Doherty | SM | Tir Chonaill |
| 5 | 19.32 | Pauric | Harvey | SM | Tir Chonaill |
| 6 | 19.38 | Ciaran | O'Donnell | M40+ | Letterkenny |
| 7 | 20.12 | Donal | Haughey | M50+ | Tir Chonaill |
| 8 | 20.18 | Ben | George | SM | Letterkenny |
| 9 | 20.26 | Brian | McGonagle | M40+ | Tir Chonaill |
| 10 | 20.38 | John | Cannon | M50+ | Tir Chonaill |
| 11 | 20.51 | Vinny | Duffy | M40+ | Tir Chonaill |
| 12 | 20.49 | Barry | O'Donnell | SM | Individual |
| 13 | 21.19 | Brian | McCabe | SM | Individual |
| 14 | 21.38 | John | O'Brien | SM | Individual |
| 15 | 21.40 | Declan | Boyle | SM | Individual |
| 16 | 21.46 | Rodney | Irwin | SM | Individual |
| 17 | 21.46 | Philomena | Gallagher | SW | Tir Chonaill |
| 18 | 22.04 | Pauric | McNern | SM | Bruckless Runners |
| 19 | 22.11 | Shaun | O'Donnell | M50+ | Individual |
| 20 | 22.21 | Damien | McDermott | M40+ | Individual |
| 21 | 22.32 | Michael | Murphy [Junior] | JM | Tullamore |
| 22 | 22.33 | Brigid | Mohan | SW | Innishowen |
| 23 | 22.36 | Kevin | McGlynn | M40+ | Tir Chonaill |
| 24 | 22.39 | Jimmy | White | M50+ | Killybegs |
| 25 | 22.47 | Paul | Mc Guickan | M40+ | Individual |
| 26 | 22.59 | Sharon | Meehan | SW | Tir Chonaill |
| 27 | 23.15 | Pat | Byrne | M50+ | Killybegs |
| 28 | 23.15 | Harry | Walsh | M40+ | Individual |
| 29 | 23.24 | Eoin | Slevin | JM | Tir Chonaill |
| 30 | 23.39 | Vera | Haughey | W50+ | Tir Chonaill |
| 31 | 23.31 | Jackie | Harvey | W50+ | Tir Chonaill |
| 32 | 23.54 | Emily | McGill | JW | Tir Chonaill |
| 33 | 24.01 | Catherine | Smeeth- Cannon | 40+ | Individual |
| 34 | 24.02 | Shane | Deery | SM | Individual |
| 35 | 24.25 | Denis | Slevin | SM | Tir Chonaill |
| 36 | 24.36 | Julian | Ensor | M50+ | Individual |
| 37 | 24.40 | Claire | Gallagher | SW | Tir Chonaill |
| 38 | 24.43 | Michelle | Ensor | W50+ | Individual |
| 39 | 25.05 | Lynda | Loughlin | SW | Tir Chonaill |
| 40 | 25.25 | James | Smyth | JM | Tir Chonaill |
| 41 | 25.35 | Santa | Claus | M50+ | Tir Chonaill |
| 42 | 25.35 | Mrs | Claus | W50+ | Tir Chonaill |
| 43 | 25.42 | Brian | Gallagher | M40+ | Individual |
| 44 | 26.02 | Aibhe | Boyle | JW | Tir Chonaill |
| 45 | 26.02 | Niamh | Boyle | JW | Tir Chonaill |
| 46 | 26.34 | Jane | Flannery | SW | Individual |
| 47 | 26.48 | Dolores | McGlinchey | W40+ | Finn Valley |
| 48 | 26.59 | Majella | Cunningham | SW | Indiidual |
| 49 | 27.41 | Amie | O'Brien | JW | Tir Chonaill |
| 50 | 27.47 | Sarah | Mc Groary | W40+ | Tir Chonaill |
| 51 | 27.54 | Rossa | Flannery | SW | Individual |
| 52 | 27.56 | Wesley | O'Meara | SM | Individual |
| 53 | 28.54 | Maureen | Gallagher | W40+ | Individual |
| 54 | 29.33 | Catherine | Coughlan | W40+ | Individual |
| 55 | 29.34 | Nick | Ruck | M50+ | Individual |
| 56 | 29.34 | Mary | Boyle | W40+ | Individaul |
| 57 | 29.42 | Mary | McGuckin | W40+ | Tir Chonaill |
| 58 | 30.32 | Kathleen | Burke | W40+ | Tir Chonaill |
| 59 | 32.02 | Dermot | Slevin | JM | Tir Chonaill |
| 60 | 32.03 | Anna | Gallagher | W40+ | Tir Chonaill |
| 61 | 32.05 | Margret | Smyth | SW | Tir Chonaill |
| 62 | 32.06 | Evan | Gallagher | JM | TIr Chonaill |
| 63 | 32.11 | Conor | Slevin | JM | Tir Chonaill |
| 64 | 41.30 | Siobhan | Slevin | SW | Tir Chonaill |
| 65 | 41.30 | Aoife | Slevin | JW | TIr Chonaill |
| 66 | 41.30 | Ann | McGill | W40+ | Individual |
| 67 | 42.04 | Eileen | O'Donnell | W40+ | Individual |
| 68 | 42.04 | Orla | Slevin | JW | Tir Chonaill |
| 69 | 50.20 | Jane | Orr | SM | Tir Chonaill |
| 70 | 50.20 | Richard | Orr | SW | Tir Chonaill |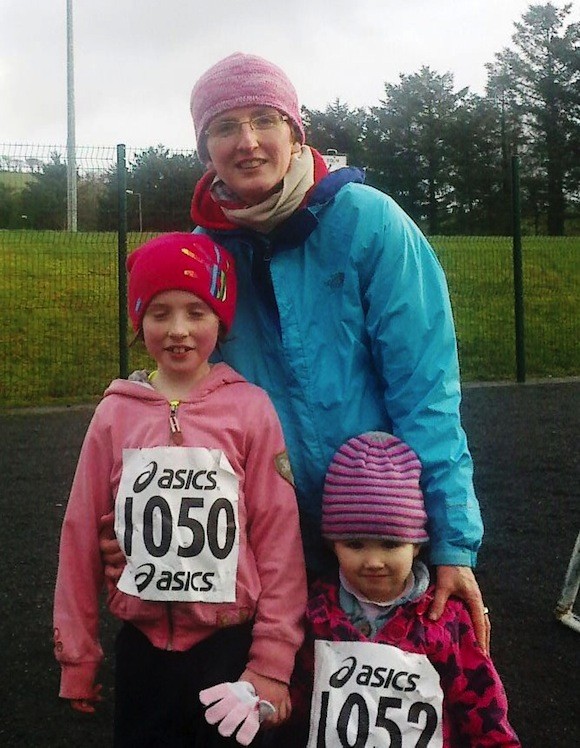 Tags: