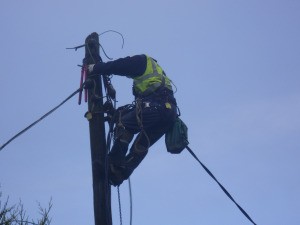 AN EMERGENCY ESB crew is working to reconnect 51 homes in Newtowncunningham.
A spokesman for ESB said the crew are hoping to have power restored between 3.30pm and 4pm.
After working throughout Christmas eve to restore power to over 30,000 homes and businesses, ESB Networks crews continued to work into Christmas Day morning fixing the damage caused by yesterday's storms.
Power was restored to all areas of the country with the exception of a small number of Customers in Mayo and Donegal.
The most effected location was Achill Island, where a large transformer had been irreparably damaged by a lightning strike. While power was restored to the whole area, by re-arranging the networks, there was an additional fault on a number of low voltage transformers which has left a number of customers without power.
ESB Networks crews will be out again at first light this morning in efforts to repair the last few faults and restore power to these customers. We apologise to those customers for this further interruption.
As customers in Achill are being supplied on a contingency service.
"We ask them to minimise their use of electricity as they are supplied from networks some distance away," said an ESB spokeswoman.
"The restoration over night involved crews working in Donegal, Cork, Clare and other counties around the country. We are now hoping for a respite in the weather over the Christmas to allow all customers to enjoy the celebration.
"Customers experiencing a loss of supply are advised to check PowerCheck online at; www.esbpowercheck.ie or download the PowerCheck app to their mobile phone to check if the fault has already been logged. ESB Networks is asking customers to report any fallen wires or emergency situations to 1850 372 999 which will be staffed 24/7.
"Our local staff & National Customers Care Centre will deal directly with the customers in Mayo. This is the last update for this emergency website at this stage. We will re-commence postings to this website if the forecast poor weather for the end of the week materilaises and causes significant damage.
This Christmas Day morning, Mike Fitzgerald Manager of Customer Services at ESB Networks reflected "ESB Networks would like to apologise to customers who are without supply, especially on this Christmas Day morning, and thank them for their patience. They can be sure that today we will continue efforts to get them back and give them power for Christmas. In addition we would like to thank our Crews and staff who have been working around the clock since last Wednesday to minimise the power interruptions to customers. They are always ready for these events and have approached these challenges with the same commitment. We wish all our customers a happy and peaceful Christmas"
"Thank you to many people who sent in messages and tweets of thanks to our staff, these words of support were very much appreciated."
Tags: