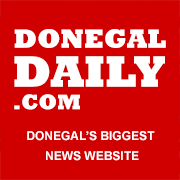 DONEGAL is getting battered by Storm Erich – but we've escaped the worst of it so far.
Munster has been lashed with thunderstorms, with hurricane-force winds cutting power to 20,000 homes.
Part of a roof at Cork University Hospital has been ripped off during overnight severe gales.
Irish Weather Online reports: "Winds are likely to drop of a little over the northwest over the next few hours but will pick up again by morning. Elsewhere, remaining stormy throughout the night."
Gardaí here and the PSNI in the North have both urged motorists not to drive at all overnight.
The storm is expected to subside by 3pm.