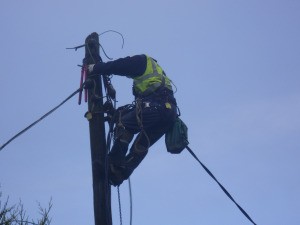 THE latest storm has officially subsided, however dozens of homes in Co Donegal are without power this evening.
ESB Networks says 63 customers in Castlefinn have lost their supply, but should be reconnected by 9.30pm.
Elsewhere 91 homes in Lifford – mainly on the Letterkenny Road in the town – have also had power disrupted. These properties should have services restored before 8pm.
Eighteen homes in Malin Head had their ESB supply cut off at 4pm. Supplies should be restored by 7.30pm.
Following the serious storm overnight, with wind speeds up to 150KM/hr, causing huge damage to the electricity Network across the country, over 70,000 homes and businesses had been left without power this morning in the country.
In preparation for the fall out of the storm ESB Networks management and engineers had planned the response effort through the night. Network Crews worked since day break to make the network safe and restore supply.
ESB Networks Centralised Operation Control Centre, with over 2000 smart switching devices around the country was used to it's maximum advantage also to assist ground crews in isolating faulted network, making safe dangerous situations and restoring supply to all customers.
The results of this effort is that by 5PM, ESB Networks had restored supply to over 60,000 customers, with 10,000 now remaining without electricity. This progress masks the huge amount of work that will be required to fix all the remaining faults on the network – over 1400 faults exist. It will take significant time to reach all these smaller faults and for that reason we are estimating at this stage that up to 4900 customers will be without power over night.
It is expected that up to 1850 customers will be without supply in the South west, in the mid west we will have 2500 homes and businesses out in Tralee Newcastlewest and Clare. In the South East we expect there expecting 280 customers out over night in Arklow and Enniscorthy. We expect approximately 180 out in the North East North Dublin/Mullingar Drogheda/Dundalk. Across the country Small Pockets of outages will possibly be out over night, but through working through the evening ESB Networks to minimise that number to 4900 or below.
ESB Networks says it apologises to Customers who have been out today and especially to those customers for whom we will not be able to get power back to night. This has been one of the worst storms in years.
Said a spokesman: "We have over 1000 staff working in the field fixing faults and making the network safe. Crews will work late into the evening and will resume first thing tomorrow morning to complete the restoration."
Tags: