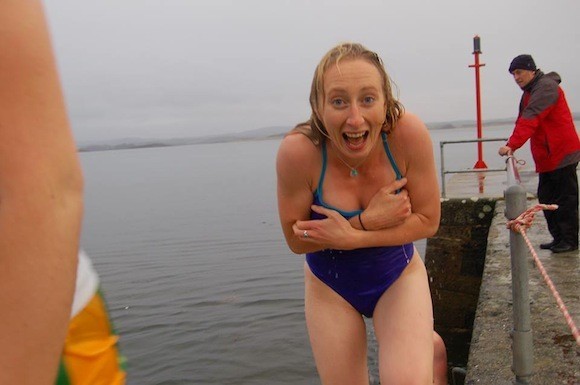 PICTURE SPECIAL BY KELLY O'SULLIVAN: In almost perfect conditions (apart from the drizzle) more than 300 people turned out for the annual RNLI New Years Day Swim in Mountcharles.
Adding greatly to the event was the presence of Tommy Byrne of the Big Jigs band who had a mini hooley going belting out tunes on his bag pipes and Mark Padley Cross Chanel Swimmer from the UK who was holidaying in the area.
The event was organised by Donegal Town RNLI which is one of the most active fundraising RNLI groups in Ireland raising €20,000 for the Lifeboats in 2013.
Donegal Town RNLI PRO Paul O Sullivan said " In spite of recent adverse media coverage for some charities, the RNLI is a "top up" free organisation. We receive no statutory State funding. The 2,000 crew members of our 56 Lifeboats get no wages and nor expenses.
Treasurer John McNeil said that " 2013 was a great year for us, we raised €20,000 and that excludes today's event" Audrey Irwin, a stalwart of the RNLI said, "one man handed me three €50 notes", he's here every year"
John Darch, Chairman was equally delighted with the turnout. " When you're completely dependent on the weather, it's great when everything goes well. We would like to thank the local communities for their continued support of the RNLI and wish everyone a Happy New Year". Jackie Irwin, Secretary paid tribute to the local media who played a huge success in the success of the event.
Tags: