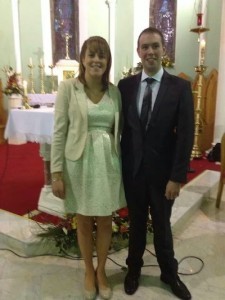 A COUPLE who stunned guests at the Christening of their new-born twins by getting married are to have a honeymoon after all – thanks to a top Donegal hotel.
Letterkenny woman Karen Simmons and her new husband Gearoid Dunne got married at a chapel in Tubberycurry, Co Sligo, just moments after Leah and Conor were baptised.
The couple didn't have time to go on honeymoon.
Now it turns out a hotel where Karen actually used to work has offered them a free stay in their luxurious honeymoon suite!
The Mount Errigal Hotel in Letterkenny was so taken with our story on Donegal Daily yesterday that they've stepped in to make sure the couple have another celebration – on the house.
Said Carolynne Harrison from the hotel: "When we saw the story it really warmed our hearts and with three babies to look after we thought Karen and Gearoid could do with a luxurious complimentary stay in our honeymoon suite.
"At that stage, we were not aware that Karen had worked in the hotel many years ago along with numerous members of her own family.
"It turns out, that since we contacted her, she has already booked her wedding celebration with us, even though we insisted that there was no obligation for her to do so. We are looking forward to seeing them at the end of the month."
The couple were delighted with the kind offer.
"We are really looking forward to it," said Karen.
"We were actually planning to go to the Mount Errigal anyway to meet up with family and friends in Letterkenny, so to be given this generous offer is absolutely brilliant. We're thrilled. We can't thank them enough."
Tags: