A Donegal woman claimed she was kicked out of a taxi in Scotland for speaking Irish.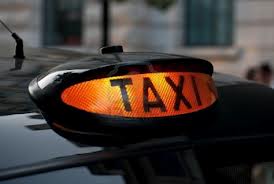 Kathleen McAleer, 21, was one of four passengers in a taxi in Glasgow when he incident happened on December 16th last.
A formal complaint has been lodged with Glasgow City Council after they were allegedly told to "stop speaking in that language" by the driver.
The mental health nurse, whose father comes from Carrigart and mother comes from Gaoth Dobhair, was travelling with a friend and two cousins, Joseph and Anthony Blair from Gaoth Dobhair.
She said: "My cousins were just talking to each other in Irish, which is their first language.
"The taxi driver turned around and said to them: 'Stop speaking in that language'.
"We didn't really know how to take it. He said: 'When you are in Britain, it is English you speak.'
"I said to the driver 'Excuse me', shocked that somebody would say that to them."
"I said: 'That is out of order'.
"He then said: 'If they want to speak in that language they can get out of my taxi.'
"So we got out and said we wouldn't pay."
Kathleen's cousin, Anthony Blair, 20, a student at St Patrick's College had travelled to Scotland to visit his grandmother Mary O'Donnell.
He told Donegal Daily "We has just got into the taxi and I asked the driver how much it would be. When he told me I turned to my brother Joe and began speaking in Irish which is our first language.
"He told me I couldn't speak that way. He said we were in Britain and we should speak English.
"He said if we didn't speak English then we should get out of his taxi. I couldn't believe what he was saying.
"We said if that was his attitude then we would get out which we did," revealed Anthony.
Anthony, whose parents were born in Scotland and who knows Glasgow quite well, said he could not believe what was happening.
"If we were in a taxi in Spain or Italy we would not expect to be able to speak Spanish or Italian so why did we have to speak English.
"We were not insulting anyone. I speak to my brother in Irish all the time, it's just a natural thing to us," he said.
The Glasgow Evening Times reports that the man's company, Hampden Cabs, refused to comment on the incident.
However, when asking an official from the firm about what happened, the spokesman reportedly insisted that it was related to another story whereby drunken passengers had intimidated an elderly driver.
But after being told by the paper that that was an entirely different incident, the paper reports that the spokesman said "I couldn't imagine four people coming over from Donegal and going to a party in Britain and not being drunk", before laughing.
Kathleen told Donegal Daily that the driver had claimed they had been at a Pogues concert and they had abused him in a sectarian manner.
"That concert was on a completely different night – we were not even at it. We would never abuse anyone in a sectarian manner.
"In my opinion this driver is just covering up because he knows he was wrong. He needs to apologise because in 2014 this kind of behaviour is just not acceptable," she said.
An investigation is underway.
Tags: