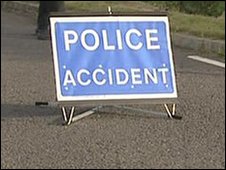 A CO Donegal man has been killed in a road traffic collision.
The 62-year-old man who died in a horror crash near Sion Mills has been named locally as Patsy McCrory, originally from Upper Art, Castlefin.
Mr McCrory's wife and members of his family are understood to be among those receiving treatment for serious injuries sustained in yesterday morning's collision.
The accident happened shortly before 11.00am on the main Sion Mills to Victoria Bridge road and involved a Toyota Avensis car and a Suzuki Vitara jeep.
Two women, one in her 50s and the other in her 20s, and two men, one aged in his 20s and the other in his 40s, are currently receiving treatment in Altnagelvin Hospital in Derry.
One of the injured, initially described as critically ill, is now described as seriously ill and stable.
The horror crash occurred less than two miles from last Friday's three-car collision in which Alexander McEntee, a retired businessman, was killed.
Mr McCrory had been living in Castlederg.
There is widespread shock in Castlefin where his many relatives and friends were told of his death last night.
Tags: