Daniel O'Donnell appears on RTE's Surf N Turf this Friday night where he puts his cooking skills to the test.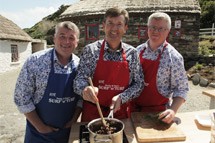 Chef Paul goes straight to the newly opened visitor centre dedicated to the singer, travels to his house and even bumps into his wife Majella.
After much searching, he finally finds Daniel attending Irish classes in the area and duly recruits him.
The challenge is to keep the identity of his illustrious helper from his competitor Martin.
Meanwhile Martin is in fishing heaven in Ireland's most northern county and finds some delicious mackerel for the challenge.
Paul opts for pork belly which he cooks with some local black pudding all sourced from Donegal butcher Ernan McGettigan.
Twenty local taste testers arrive to the Glencolmcille Folk Village to sample the two signature dishes and Martin's reaction when he sees Daniel O'Donnell stroll in to help Paul is priceless. But who will Donegal vote for, Surf or Turf?
Tags: