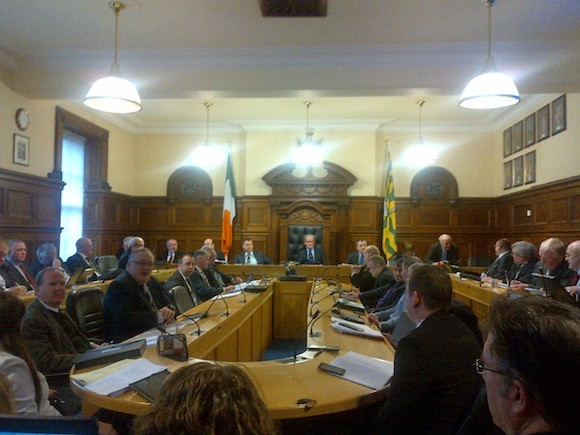 Fianna Fáil Councillors have accused Fine Gael of stifling democracy by ramming through a "highly damaging" reduced budget for Donegal County Council.
The Fianna Fáil Whip on Donegal County Council Cllr Ciarán Brogan has said the Government party employed "sneaky tactics to push through a deeply unpopular budget that is not in the best interests of Donegal communities."
Cllr Brogan: "Fine Gael took advantage of the temporary absence of one Fianna Fáil councillor to ram through a budget that will see local services across Co Donegal cut to the bone this year.
"Fianna Fáil facilitated 26 adjournments throughout this process and the one time we sought an adjournment to debate Cllr Campbell's proposals, it was refused and the Mayor used his casting vote to ram through this terrible budget.
"This highly cynical behaviour flies in the face of democracy.  Fine Gael and its supporters were happy to ignore the obvious opposition to this budget and the genuine concerns of members of the public who know how these cuts will affect our local services.
"The public have been misled throughout this process. It is simply untrue to say that this county would have lost a million euro if the Budget had been rejected.  In fact, by ramming through a Budget that's riddled with cuts, Donegal is much worse off.  The reality of this will soon become very clear.
"The so-called Campbell Deal imposes a huge burden of extra demands on taxpayers throughout Donegal.  There has been no attempt to reduce costs for local businesses, no investment in council housing stock and repairs, no investment in unfinished estates and no investment in our crumbling roads network.  Meanwhile our local water infrastructure – that is worth millions – is just being handed over to Irish Water, Fine Gael's new Super Quango that's already wasting tens of millions of euro of taxpayers' money."
Cllr Brogan has also raised concerns that local businesses will be targeted to meet additional costs of €375,000 in Donegal County Council's budget.
"The savings in the revised budget are supposed to come from uncollected rates.  This means that business that could not pay these rates until now will be targeted in an attempt to bridge the funding gap. It's an extremely cynical exercise that could threaten the survival of some local businesses.
"We will continue our stand on behalf of people across Co Donegal to send a clear message to the Management of Donegal County Council and to the Environment Minister Phil Hogan that the people of this county have suffered enough and will no longer accept these savage cuts from this Government."
Tags: