A doting dad whose family's pet dog was taken from their St Johnston home has said he is convinced a dognapping gang are operating in the area.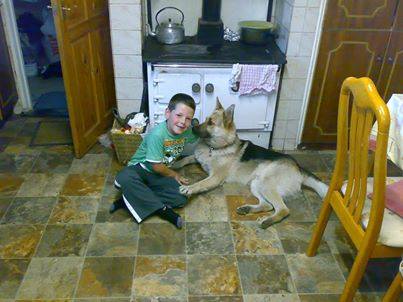 Daniel Lynch's pet Alsatian dog was taken from his garden on Monday night last.
The dog was later bought by a man in Letterkenny for €150.
But the new owner said he suspected there was something wrong with the dog and contacted Donegal Pet Rescue.
It was then discovered that the four years old dog had been stolen.
Danny revealed "I met him and he explained he bought the dog from a guy and had his phone number.
"He said he met him in Carrigans and he was driving a blue van.
"I tried the number he gave me but it wasn't working.
"I have been told that a blue van was spotted lifting other dogs and a description of a guy driving it.
"I'm convinced they're lifting the dogs to sell them on. It's just disgusting," he said.
Danny said he was delighted to get the dog, which is called Ben, back safely.
"My little boy is just so happy. He was devastated. The dog is an old pet and wouldn't hurt anyone.
"He wouldn't bark and someone could have easily lifted him in a second and that's obviously what happened.
'It's still very nervous because it was missing for five days," said Danny.
The latest dog robbery comes following the theft of kickboxer Tommy McCafferty's dog from nearby Burt.
Thieves took Tommy's American Akita dog last week but returned it the following day when the realised who the owner was!
Donegal Pet Rescue say there has been a huge increase in the numbers of dogs going missing in Donegal since November.
Tags: