Early Childhood Care and Education students all over Donegal this month are caught in the middle of the latest bureaucracy bedlam over Garda Vetting for placement in early childhood services.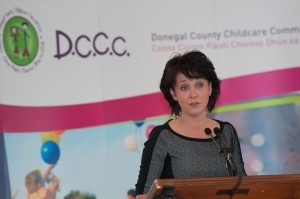 Donegal Childcare Manager, Avril McMonagle has this week confirmed that this issue was flagged earlier last year as having the potential to bring training placements to a standstill if a solution wasn't agreed by January 2014.
This is proving a significant challenge for training organisations, students and Donegal's 151 childcare providers and will impact negatively on the delivery model of early childhood degree and FETAC training programmes offered to an estimated 400 students across the county.
Traditionally, Garda Vetting was carried out by colleges, IT's and training organisations for early childhood students before going out into childcare services.
The previous practice of confirmation by individual letter that Garda Vetting had been undertaken and that there are no issues arising, no longer meets HSE requirements.
New HSE inspection standards now require Garda Vetting forms to be held on site by the childcare providers otherwise the service will be deemed non-compliant under this particular regulation.
"This all sounded fine, well at least until the Data Protection Commissioner was thrown into the mix," says Ms. McMonagle.
The Office of the Data Protection Commissioner have informed training providers that they cannot, under the Data Protection legislation, share Garda Vetting forms with a third party that is, the childcare provider.
A common sense solution was then put forward to query whether the student could pass on the clearance evidence obtained by training organisation to the childcare provider directly themselves – but no, this practice has been deemed unacceptable also.
Understandably, early childhood service providers do not want to have a recorded non compliance through no fault of their own and are currently forced to refuse student placements.
Some students have commenced vetting procedures independently through allocated agencies in an attempt to get around the chaos. However existing delays of 14-16 weeks will prohibit second semester placements and no doubt cause a snowball effect in an already inefficient vetting system.
Ms. McMonagle concludes 'If this debacle was created so that children would be better protected from harm or abuse, then every professional involved would exercise tolerance and understanding. However, when this shambles of officialdom has been caused by the physical location of a piece of paper – it's difficult to exercise any tolerance at all'.
DCCC are currently working with training organisations and childcare providers to form a collective response to be put to the appropriate agencies at the end of January.
Tags: