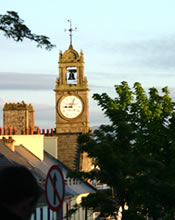 THERE is good news on two fronts today from the one contract deal helping the county twice.
Today saw the signing of contracts between the HSE and Boyle Construction, Trentagh, Letterkenny for the construction of a new Primary Care Centre and other associated accommodation in Ballyshannon, Co. Donegal.
The €7.9 million development, on the site of the former St. Catherine's Convent, Townparks, Ballyshannon, will deliver a modern centre for primary care services in the South Donegal area and will bring together other HSE services that are currently provided from a number of different locations within the town.
The construction work on the project is due to begin shortly and is expected to take about 15 months to complete.
This project is part of the HSE's National Strategy to develop purpose-built Primary Care Centres delivering primary care services to local communities.
Some of the services which will be provided from the new primary care centre include General Practitioner Services; Public Health Nursing Services; Community Physiotherapy, Occupational Therapy, Chiropody, Dietician Services; Dental Services; Speech & Language Therapy services, Mental Health Services; Psychology Services; Geriatric Services, Counselling and X-ray. There will also be facilities available for visiting services.
Mr John Hayes, Area Manager, HSE Donegal said today: "The HSE in Donegal is delighted to have signed the contract for this new Primary Care facility, which will greatly enhance the delivery of services within the South Donegal area.
"This Primary Care Centre will allow the public to have easy access to an increased range of services based in one location. It is hoped that only those who need the specialist services available in an acute hospital will need to go to the hospital setting. The development of Primary Care Teams is a key element of our national plan for developing community-based health services."
Welcoming the new development, Dr Eamon Stack from the Bayview practice said: "The doctors and staff of the Bayview practice are delighted that the project is going ahead, and we look forward to its timely completion.
"It will improve services for patients, and strengthen the already good working relationship we have with the HSE staff working in the Ballyshannon area."
Tags: