Barcelona delivers on all accounts as the perfect family break with its combination of beach, fun park and enough edgy architecture to wow everyone.
A short flight time from Belfast International Airport and the holiday starts after a thirty minute ride on the express airport bus into the heart of the city at Plaça de Catalunya.
Amid the teeming hub of tour buses, cafes and bars, you can buy a coffee and simply sit in this famous square and people-watch against the backdrop of the illuminated fountains.
The kids will enjoy the jugglers, musicians and street theatre as well as watching the gymnastics of the skateboarders although they might have to negotiate a path through the flocks of pigeons that have made the square their home.
Just a short distance away is Barcelona's famous pedestrianised street – La Rambla.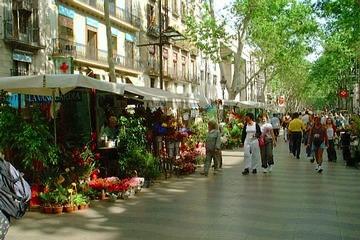 Lined with gift shops, human statues, food outlets and hotels, it is a must-do on the tourist trail simply because of its energy and atmosphere.
You will also find one of Europe's famous food markets along this route – La Boqueria. After a stroll around the many stalls of fish, hams and fruit you may have a chance to try the fine tapas at market bar El Pinotxo.
Dining out in this part of the city is expensive but you can still get tapas, pizza, falafel, noodles and other street food without blowing the budget.
Our tapas experience was excellent and some highlights included the traditional Catalan tomato bread, cuttlefish stew, patatas bravas, spicy prawns and salted cod.
We were saving the other traditional Catalan treat of churros and chocolate for another day.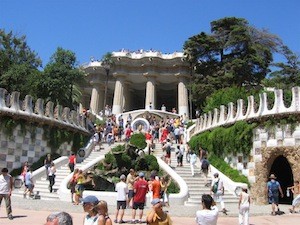 The easy-to-use transport system of metro, buses and trains makes Barcelona a true family-friendly city.
However, walking does give you the chance to stand awestruck at the masterpieces of Catalan architect Antoni Gaudi.
We passed Casa Batlló and La Perdrera every day and every day the kids had to take a photograph.
But staring at the work-in-progress of La Sagrada Familia was definitely a wow moment.
"And it's not even finished yet," declared the youngest.
It's said that when asked why it was taking so long to complete the Bascilica (under construction since 1882) Gaudi replied: "My client is not in a hurry."
After a couple of days sight-seeing, it was time to see another side of the region so we caught the train and an hour and a bit later we arrived at Port Aventura.
This was our first time at the theme park but I know we will be back.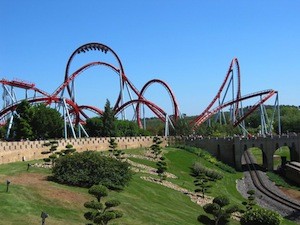 Walking through the resort with its Hallowe'en decorations in gorgeous sunshine was bliss.
The park was filled with pumpkins, giant spiders and there were specially-themed Halloween shows taking place.
The lack of queues for any rides was a huge advantage of travelling at this time of year.
Despite the Aqua Park being closed for the season, there were enough water rides and heart-thumping roller coasters to keep everyone happy.
Screams from the Shambhala, Europe's tallest roller coaster, were warning enough for the faint hearted to avoid.
Our only disappointment was the hot chocolate and churros were not the best
After a day of full-on fun, the train home was a chance to catch up on some sleep.
One of the best ways to discover Barcelona with children is a hop on/hop off tour bus.
There are other fantastic tours including a literary tour, Gaudi tour, Gothic Quarter by Night or you could combine your sightseeing with your workout and do a running tour.
For us, the Barcelona Bus Turistic was perfect. It was a chance to relax on the top deck in the sunshine and take in this colourful, exciting city.
We hopped off at Park Güell, bought some picnic food and spent a sunny afternoon wondering around this artistic playground with its giant ceramic lizard, columns, mosaics and catacombs.
The bus route also included a stop at Camp Nou, the hallowed ground of FC Barcelona.
We were also able to change routes and take another tour along the Port area of the city.
Tickets for the bus tour for a family of four cost €84.00 but this was a full day of sightseeing and one of our holiday highlights.
When and how to go: We went in Halloween week and booked flights well in advance with EasyJet from Belfast International to Barcelona. Two adults and two children for less than €360 return.
Book well in advance at www.easyjet.com and you can save even more. Watch out for sales periods for even better offers.
Spring and autumn are the best times to visit Barcelona and Portadventura. There are fewer people around at those times, cutting queues to the main sites. And it's cooler!
If you are planning to go in the autumn, there's more here on Portaventura's Halloween week.
https://www.donegaldaily.com/2013/10/01/travel-portaventura-launches-halloween-horror-experience/
Spain is Ireland's favourite tourist destination. But there's more to the country than a beach holiday.
You can visit www.spain.info and browse through hundreds of great ideas about where to go and what to see.
Where to stay: Check tripadvisor.ie for the best deals and advice from other travellers. Expect to pay €100 per night for family rooms.
You can get various guided walking tours of Barcelona – including a gothic tour, and a chocolate tour. All reasonable and a must.
Visit www.barcelonaturisme.com to find out more.
Tags: