Donegal County Council has received notice of potentially extreme weather conditions this weekend.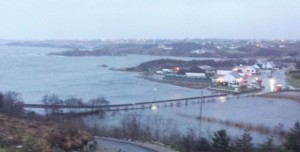 An Atlantic storm depression will develop in mid Atlantic on Saturday and is likely to track north-eastwards across the Atlantic and will pass the North West of Ireland during Sunday. The exact track is still not certain.
"There is potential that some severe southwest to westerly winds will develop on the Atlantic Seaboard during Sunday, on Sunday night and early Monday. There is potential for some very high waves from Sunday afternoon onwards.
"Donegal County Council is urging members of the public to exercise caution particularly in areas adjacent to the coastline and areas which are susceptible to coastal flooding."
The Council will continue to monitor conditions and staff are on standby over the weekend to respond to emergency call outs.
In the event of an out of hours emergency call 074 9172288 for Roads Service or 074 91 72399 for Water Service.
To keep up to date on all road conditions this Winter follow us on Twitter @roadsdcc or @donegalcouncil or on our Facebook page
Tags: