The Emergency Department/Acute Medical Assessment Unit at Letterkenny General Hospital is on schedule to re-open in mid March.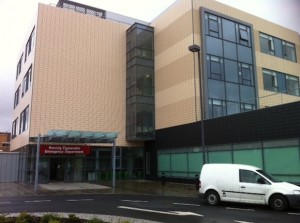 An update on the hospital's progress today revealed that by that time essential diagnostic equipment such as the MRI and CT scanners will be becoming operational and the new pharmacy will be completed.
The Pulmonary Laboratory and the Cardiac Investigations unit will follow shortly afterwards.
Mr Seán Murphy, General Manager, Letterkenny Hospital said these areas have been a priority.
"There will be a tangible improvement in patient services when they are fully operational again. We continue to make progress on other key areas, including:
"Coronary Care Unit: specification for the new unit was submitted to National Capital Steering Committee to commence late 2014 for completion September 2015;
"Kitchen/Dining Room rebuild will commence in June with completion in December 2014;
"Laboratory will commence mid March 2014 with completion late 2014.
"Radiology – Approval received for multi-purpose Interventional Suite for project completion April 2016."
Dr Colm O'Donnell, consultant radiologist in Letterkenny General Hospital and one of four new clinical directors for the West/North West Hospitals Group added, "With the installation of the MRI scanner, we should resume scanning on a phased basis in early February. When fully operational we will bring back scanning of adult inpatients and outpatients from the North West Independent Hospital in Ballykelly.
"Very importantly, we will bring back scanning of the vast majority of our paediatric patients to Letterkenny from Temple Street Children's Hospital and from Our Lady's Children's Hospital in Dublin. This will result in a considerable improvement in service for our patients. Of course we are immensely grateful to the other facilities for the support they provided since the July flood.
"Looking to the future, we are very excited that Letterkenny will be getting a new multi-purpose interventional suite. This will allow us carry out a variety of diagnostic and treatment procedures within our own hospital facilities, greatly improving the services for many patients each year who would have had to travel to Dublin previously for their treatments, including cancer and cardiac procedures such as the insertion of pacemakers.
Mr Seán Murphy said flood management at the hospital is being assessed on a continual basis.
"As previously advised, there are improved interim arrangements in place at the culvert with additional monitoring and clearing. The rebuilding works will include a new culvert, now estimated to cost in excess of €600,000 due to enhancements to the design.
"A planning application is being advanced with Donegal County Council. Internal flood management measures such as flood doors are also being designed into the new building works. A detailed flood management strategy involving the culvert and buildings is being advanced by HSE Estates."
The indicative budget for the rebuild works is in excess of €15m and overall costs will exceed €30m when equipment and contingency costs are taken into account. Discussions are ongoing with insurers.
Despite the significant disruption caused by the flood, patient services at Letterkenny General Hospital continued to improve during 2013 with better patient access, the appointment of more consultants, the establishment of multidisciplinary teams with St James's Hospital Dublin for colposcopy services and the introduction of audiology screening of all newborns.
Improving patient access will remain a priority for 2014 with the appointment of more consultants. NCHD recruitment and compliance with the EWTD is one of the challenges facing the hospital during 2014, said a spokesman.
Mr Bill Maher, Group CEO of the West/North West Hospitals Group, stated, "I'm very pleased to report that across the Group, including at Letterkenny despite the considerable disruption, we achieved the national waiting list target that no inpatient is now waiting more than eight months for an appointment."
Mr Maher outlined the Group's priorities including the continued integration of patient services across the hospitals in the Group and the preparation of the Group for Trust status; the development of a centre for learning and innovation and the re-building of Letterkenny Hospital.
Tags: