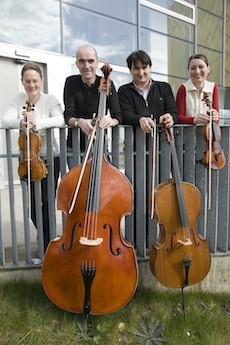 A CLASSICAL music treat is in store this Sunday as The Donegal Chamber Music Society presents the first of five concerts during the first half of this year as part of "Sundays in Conwal 2014".
The opening concert – at 3pm on Sunday – will be played by the accomplished Donegal Camerata, the resident ensemble.
An International Ensemble of professional players based in Donegal, the Donegal Camerata will continue their eclectic and attractive chamber music recitals, offering a program with cardinal works from the string repertoire along with some pieces in a more light-entertainment vein.
For the first recital of the year they will present music by W.A. Mozart, P. I. Tchaikovsky, Antonín Dvořák, Josef Suk and Béla Bartók. As before, in each concert they will present a new work by an Irish Contemporary Composer. The work chosen from the Contemporary Music Centre Library for this recital will be a piece related to Donegal, Ian Wilson's An tIarthar, composed in 2010 for the Donegal Chamber Orchestra.
The Donegal Chamber Music Society Quartet – made up of younger Donegal musicians –  will also perform on Sunday.
"Sundays in Conwal 2014" 1st Concert
26th January, 3pm. Conwal Church. Letterkenny
Programme
W.A. Mozart (1756-1791): Divertimento in F Major, K. 138/125c (1772)
P. I. Tchaikovsky (1840-1893): Andante Cantabile from String Quartet No. 1, Op. 11 (1871)
Ian Wilson (b.1964): An tIarthar (2010) (CMC)
Louis Laporte (ca.1850 – 1922): Intermède-pizzicato for string quintet (1901)
Antonín Dvořák (1841-1904): Slavonic Dance in e minor, No. 2 Op. 72 (1886-7)
Josef Suk (1874-1935): Ella-Polka (1909) from Episodes
Béla Bartók (1881-1945): Romanian Folk Dances (1917) Sz. 68 BB 76
Admission €10/5. Tickets will be available at the door.
Tags: