The General Manager of Letterkenny General Hospital has confirmed the hospital will have a chapel once again.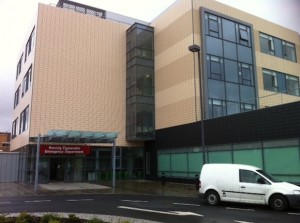 Sean Murphy said that once they have finished consulting with the chaplaincy teams and designers, work will commence on the chapel.
Speaking while giving an update following last summer's horrific flooding, Mr Murphy said he understands the subject has been contentious but they are addressing it.
"We are looking at the chaplaincy team saying "what do you need to provide good pastoral care and spiritual care services to our patients, visitors and staff? Is there a better way of using the facilities we have?
"For instance, is there an option that says rather than segregating religious worship into two ends of the corridor, is there actually a better way to bring things together and then provided things like sacrament, reconciliation, patient counselling etc, that you don't have at the moment," he explained.
He said he wished to categorically confirm the hospital will have a chapel in the future.
"We will have a chapel in the hospital. The chaplaincy team have been very clear that for Roman Catholics it is important that there is a presence of the blessed sacrament in a chapel, to worship the blessed sacrament, that will also be addressed.
"There are different ways you can do that. One of the ways is to go back exactly as it was, with all the disadvantages. There are other different ways you can achieve the same objective. They have met several times with the chaplaincy team. They have met with the design team, the architects and engineers, and they have said "If we were starting to build a new hospital on a green field site this is what we would do'.
"They have given them those details, the design team will come back to them and ask 'what do you mean by this?' or 'How does this work', 'How many will it need to accommodate and what religious services will be going on at what times' and they will come back to the chaplaincy team with proposals and ideas and plans next week. Then we will make decisions what it the best lay outs to meet the need of our patients, visitors and staff."
Tags: