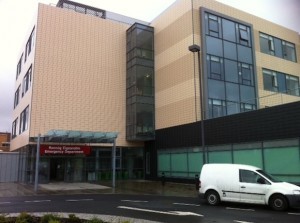 MANAGERS at Letterkenny General Hospital spent an astonishing €344,000 on filling just one medic's position there, shocking new figures reveal.
An investigation by RTE's Prime Time programme on unfilled senior positions at hospital across the country found that millions of euro are instead spent hiring locums – or freelance – staff from agencies.
And instead of filling the Accident & Emergency Consultant Post, Letterkenny Hospital spent €344,000 on locums in 2012, reporter Katie Hannon discovered during a Freedom of Information request.
"The post has actually been covered by agency doctors since 2008," said Hannon in  her investigation aired on Monday night.
The spend is more than twice what it would have cost to hire a consultant to fill the position.
She also found dozens of unfilled positions at senior consultancy levels across the country.
In some cases, no-one even applied for the positions as more and more medics choose to leave Ireland behind for better working conditions in health services abroad.
Experts said that locums constantly filling posts led to "poor care outcomes."
Irish Hospital Consultants Association representative Dr Gerard Crotty said the salaries and working conditions were not attracting candidates.
"If we can't recruit consultants we end up using locums at extremely high cost, representing poor value for money," he said.
Tags: