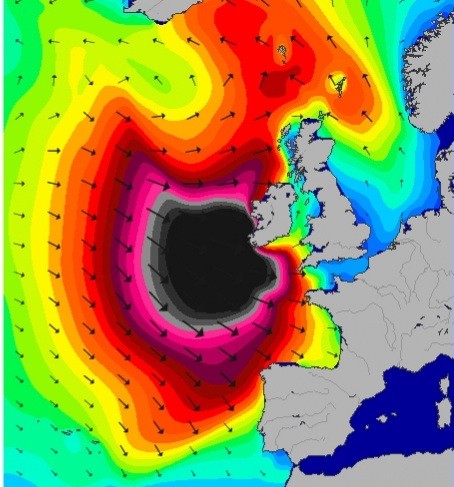 ANOTHER massive storm is on the way to Donegal.
Gale force winds and driving rain – accompanied by high tides – will have the potential to cause damage, particularly along the county's west coast.
Already surfers are getting ready for a repeat of the massive waves which hit Donegal four weeks ago during Storm Hercules on January 6th and 7th.
The surfing forecast site magicseaweed.com has produced a predictive sequence of the possible effects of the storm, with breaking waves of 50ft likely.
Forecasters have already issued an advance alert.
Irish Weather Online says winds with gusts up to 120km/hr can be expected.
Here is the IWO forecast, with the Met Eireann one below:
FRIDAY … Showers or periods of rain, some heavy with thunder. Winds generally moderate south to southwest until late afternoon or evening when stormy conditions will arrive rapidly from west to east. Morning lows 2-5 C and afternoon or evening highs 7-10 C.
FRIDAY NIGHT into SATURDAY … Very windy or stormy with squally showers, thunder and hail, winds SW 70-120 km/hr with possible higher gusts, shoreline damage from high tides or storm surges especially for west-facing bays and harbours. Temperatures steady near 7 C. Rainfalls 15-30 mm could also produce some spot flooding.
Met Eireann forecast
Friday will be a very wet and windy day, with some large rainfall totals expected, especially across the west of the country where there is the risk of flooding. Highs of 6 to 9 degrees, with fresh to strong southerly winds which will veer westerly later. Along the west coast the winds will reach gale force. The rain will clear the east coast early in the night, but another system will move into the west coast later in the night. The rain will be preceded by some wintry precipitation, but heavy rain will quickly follow.
Another wet day on Saturday with heavy falls of rain, with sleet on higher ground. A cool day with highs of 5 to 7 degrees. Strong and gusty westerly winds overland, but along western and southern coasts the winds will reach gale force with some severe gusts likely. The strong winds and high seas coupled with high tides may cause coastal flooding. Becoming largely dry overnight, apart from showers along the west coast. Cold with lows of -2 to +2.
Tags: