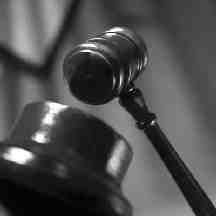 A MAN behind behind a €50k rampage through holiday homes in Inishowen will be sentenced in July, a court heard.
Bernard McDaid broke into the homes along with two other men – Ashley Nicholl and a third man on the run from Gardai – during a drunken orgy of destruction on January 31st 2010.
The men wrecked the houses in Moville, Malin and Culdaff which belonged to holiday-home owners from the North and Britain.
The men destroyed kitchens, stairs, living rooms, smashed mirrors and broke fridges and televisions during the rampage.
In total they caused more than €56,000 worth of damage to the four properties.
Bernard McDaid was named by his co-accused and a finger print linked him to crime scenes.
McDaid was drunk and high on drugs at the time.
Nicholl was jailed for two years last summer for each of the four burglaries with all sentences to run concurrently, with the last year suspended.
When McDaid, 21, appeared in court in November, he told the judge that he had been offered a job working for a kitchen company and hoped to take it up.
"I was very stupid and I was taking ecstasy," he said, apologising for what he had done.
Judge O'Hagan said he wanted to see proof of a job and adjourned sentence.
Today counsel for Damian Crawford said his client had appeared in court last week when the date had been set, but that McDaid had since returned to England.
He said McDaid's job offer from a kitchen company had also fallen through because he was banned from driving, and had decided instead to take a job on a building site in London.
Judge John O'Hagan said he will pass sentence in July.
Tags: