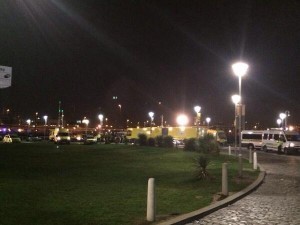 FROM Our Belfast Daily staff: PARAMEDICS have declared a major incident at the the Odyssey Area in east Belfast at a concert.
Dance music fans from Donegal and Derry are at the venue.
The NI Ambulance Service says crews have dealt with 60 young people attending the Hardwell dance concert at the venue became ill.
The latest information is that 20 young people have now been taken to hospital while attending the gig.
They are being treated for the effects of overdosing on drugs and alcohol.
According to sources, paramedic crews called in a doctor and a number of ambulances to deal with the emergency.
Scores of police officers, who were on duty in north Belfast at the Twaddell Avenue loyalist protest, have been diverted to the Odyssey.
Police are concerned a public order situation could develop after the concert is over.
All bars have now been shut at the Odyssey.
The Ulster Hospital and the Royal Victoria Hospital have now put extra staff on standby to help cope with the situation.
Former Sinn Fein Lord Mayor of Belfast Niall O'Donnghaile tweeted: "From what I understand the event is carrying on inside and in terms of the overall number attending those affected are still small."
Tags: