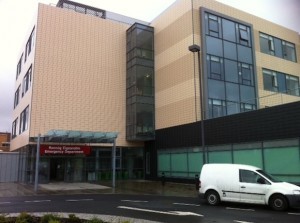 IT is what staff have been saying at Letterkenny hospital for months – and now two TDs agreed after meeting their managers…the hospital is in a staffing crisis.
Speaking today after a number of meetings with HSE management regarding the staffing issues at Letterkenny General Hospital, Sinn Féin TDs for both Donegal constituencies Pearse Doherty and Pádraig MacLochlainn expressed their alarm regarding a looming staffing crisis as a result of the requirement to implement the Working Time Directive.
The Donegal TDs said: "Over the past number of years we have consistently raised the issue of staffing at Letterkenny General Hospital at a local and national level.
"Our investigations revealed the scandal that Letterkenny General Hospital has been getting the lowest budgetary allocation and the lowest allocation of medical staff per numbers of in-patients in comparison with all other hospitals in the state.
"This revelation only increases our admiration for the tremendous staff at the hospital who have proven time and time again their ability to do more with less but it would appear that consistent under resourcing of our hospital is about to wreak havoc.
"Currently the hospital has been granted an exemption from the implementation of the Working Time Directive for Junior Doctors as a result of the flooding last year but it is clear from our discussions that the implementation of this Directive will present a monumental staffing crisis for the hospital.
"For example, the number of medical junior doctors required to comply with the terms of the Working Time Directive is 15 WTE but that Department is currently operating with just 6.5 WTE – not even half of the required amount.
They continued: "While we recognise that there are genuine challenges in relation to recruiting staff members to the hospital, it is our view that this problem was never addressed in a meaningful way.
"There is a clear need to develop not only a short term strategy to deal with the immediate issue of implementing the Working Time Directive but also a long term strategy to ensure that the Hospital can recruit key positions to prevent the loss of key services in the county.
"It is our view that the general public are unaware of the true extent of this problem and the devastating consequences it could have on our hospital services.
"We will be announcing details of a public information meeting in the coming weeks in order to inform people in the county of the situation and to embark on a campaign to mobilise public support for the Hospital.
"The campaign will focus on three main objectives – to ensure that Letterkenny General Hospital is given a Regional Hospital status, to achieve a fair budget for the Hospital and to ensure appropriate staffing levels to prevent loss of key services in the Hospital."
Tags: