MENS FOOTBALL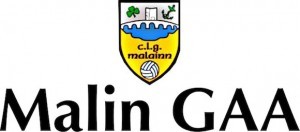 Our second game in the Quinns Corner Ulster League which was due to take place in Craigbane on Sunday, fell victim to the weather as the home sides pitch was deemed unplayable due to recent wet spell. Next weekend Roger Casements, Portglenone travel to Connolly Park. The County Antrim side have played one game to date in the competition, going down to group leaders Urney by 7 points. Details of the throw in time will be available on our social media sites and in the local parish bulletins in the coming days.
LADIES FOOTBALL
Ladies Senior Training will begin on Tuesday 4th of February from 8:30pm to 9:30pm. The second evening has to be confirmed. The season will begin with 6 weeks of indoor circuits in the Club Gym. This year the ladies will enter Division 4 in the League & the Junior B Championship. All new players are welcome to attend & any questions please contact Christina on 0861980399.
NATIONAL FOOTBALL LEAGUE
Congratulations to Declan and Stephen who were part of the Donegal squad which made it two wins from two, after defeating Galway in Pearse Park in Division 2 of National League. Declan came off the bench late in the game and fired over an excellent point to help Donegal to a 1.16 to 0.12 win. Donegal return to action on March 2nd, when they entertain Monaghan in O Donnell Park in a repeat of last years Ulster final.
COLAISTI INIS EOGHAIN
Last week there was delight throughout Inishowen when the young men of the Colaisti Inis Eoghain squad defeated St. Patrick's (Red High) of Downpatrick in the Danske Bank MacLarnon Cup Quarter Final. The match took place in the Tyrone Centre of Excellence in Garvaghy. Trailing the Down men by 2 points at the interval, Colaisti Inis Eoghain quickly turned things around with two goals in the second half leading to the final score Colaisti Inis Eoghain 3:09 St. Patrick's 3:06. Malin were well represented, with Tommy Byrne, Jonathon Mc Laughlin, Christopher Mc Laughlin (F), & Danny Mc Carron all being part of the panel. Up next for the young squad will be the semi finals where either Patrician High Carrickmacross, St Malachy's of Belfast, or St Eunans College, Letterkenny will provide the opposition in the semi final. Once again we would like to extend a huge congratulations to the squad & management from all in Malin GAA.
LOTTO
There was no winner of this weeks lotto jackpot of €1750. The sequence drawn was
5-7-6-3-2-4-1. The 50 euro winner was Eddie Kelly (Filimy), Drumcarbit. The 20 euro sellers prize goes to N and R Kelly. Next weeks jackpot stands at €1800 and as always we would like to thank the local community for their continued support of our weekly lotto draw.
UNDERAGE BOYS TRAINING
Under 6 training runs every Sunday morning from 10.00 to 11.15.
Under 8 training takes place every Sunday morning from 11.30 to 12.45
Under 10 training will be held on Saturday evenings at 7.00
Under 12 training is held on Saturdays from 4.30-6.00. Under 14 training takes place indoor, every Monday and Fridays from 5.00 – 6.30. While the Under 16 and minor panels have commenced training on Saturday mornings from 11.
Presently, all sessions are held indoors in the club gym and everyone is advised to bring appropriate footwear and a gum shield for each session.
UNDERAGE GIRLS TRAINING
U10/U8 Girls will return on Saturday 1st of February at 11:10:12:15, all girls from Junior Infants to 3rd class are invited to attend.
New players are also welcome to attend in each age group.
SCHOOL QUIZ
In linking up with the local primary schools, we are currently running a quiz for the younger members of our club. Last week, the first ever Malin GAA school quiz was sent to each of the six primary schools. By correctly answering three questions on our club, all correct entries will be placed in a draw, with 6 Malin GAA hats (one for each school) up for grabs. All answers are to be returned to their school as soon as possible, with your name, age, class & school, which Danny will collect. Good Luck to everyone & we will announce the winners next week.
HURLING COURSE
There will be a Hurling foundation course on Friday 21st & Saturday February 22nd in McCumhaill Park, Ballybofey. Anyone interested in attending is asked to contact the club as soon as possible.
BASKETBALL
Ladies basketball has now moved to Mondays between 9pm-10pm in the gym. These Monday sessions will run from the 3rd of Feb until Easter and the cost is just €2 per night. We would like to invite any ladies in the local area that would like to attend to please do, its a great way to keep fit & meet new people. Well Done ladies & thank you for making it a success!
CLUB NOTES
Any items for the notes should be forwarded to Martin Doherty on 0861585880 or alternatively send an email to the club email address pro.malin.donegal@gaa.ie at no later than 9 o clock on the Sunday evening.
CLUB NEWS
You can now stay up to date with all the latest happenings within the club by checking our facebook page www.facebook.com/malingaa, by following us on twitter @malainnclg, or by sending a text to the club texting service 0868668531 to avail of club fixtures. If anyone has any club related information which they would like posted onto our facebook or twitter accounts, feel free to send a private message to the relevant accounts.
Tags: