The Donegal Sports Partnership will pilot a new 8 week Outdoor Walking Programme on Saturday 15th February at The Vestry, St Conal's Hospital, Letterkenny.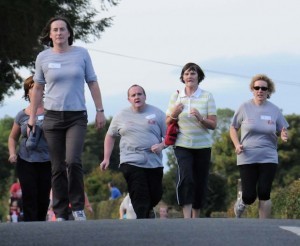 'STEP ON IT' aims to improve your functional fitness through walking, and will subsequently concentrate on walking technique, posture, warm ups/cool downs, stretching, goal setting & nutritional advice.
The programme has been developed and will be delivered by a fully qualified FitWalk Ireland tutor, and will incorporate different challenges and routes each week.
The programme is suitable for all fitness levels and abilities; regardless of whether you walk regularly or not.
Come along and join a group that will provide the enthusiasm and motivation to help you achieve the maximum benefits from walking, and ensure your walking workout is enjoyable and worth while!
Registration is from 10.45am, with the session starting at 11am. Sessions will run every Saturday morning for 8 consecutive weeks, with weekly activity plans distributed at each group meeting.
A once-off registration fee of €20 will cover your 8 weeks on the programme and all additional supporting material. To pre-register, email Karen@activedonegal.com or phone/text 087-7376537 with your Name & Contact details or queries can be made by contacting the Donegal Sports Partnership Offices on 074-9116078.
Tags: