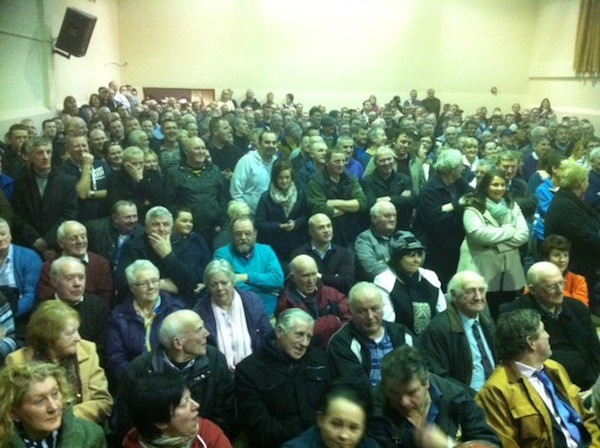 >>>> RIGHT: Some of the huge crowd which turned out last night to discuss the break-ins
More than 1,500 people last night sent a stern warning to thugs who are terrorising and robbing elderly people in their own homes.
The meeting, held in the Manorcunningham Resource Centre, was one of the most passionate and vocally-charged held in Donegal in recent years.
It heard personal stories from elderly people who have been left prisoners in their homes by gangs operating in the Manor, Raphoe, St Johnston, Convoy, Carrigans and surrounding areas.
The meeting heard pledges totaling €10,000 for solid information leading to the arrest of those responsible for carrying out the robberies.
Organiser Tony Morning said he was overwhelmed by the huge turn-out.
"This goes to show how we will not be beaten by these vermin. We will beat them and we will them out of our communities. They will be eradicated," he said.
Among those who spoke was Tom McKean, the nephew of Suzy and Isa Arthur who were attacked and terrorised in their St Johnston home last year.
A minute's silence was held for Suzy, 89, who passed away last October as a result of her injuries sustained in the July attack.
"I hope the Gardai get whoever was responsible for attacking Suzy and Isa.
"And when they did I will go to the court and I will tell the Judge not to go lenient on them," said Tom choking back tears.
Speaker after speaker told horror stories of how they had been attacked by gangs in their homes.
They included John Gillen who had a gun smashed in his face.
Others included Katie Sweeney who was also terrorised.
Another man Donal Deeney recounted how he was visiting an elderly man in Castlefin when four men burst in through the door.
He spoke in a hushed tone when he revealed how the raiders warned them they would pout a kettle of boiling water over both of them if they did not reveal where the safe was.
They eventually got away with €12.
Organiser Tony Morning said he wanted to hear positive and constructive contributions about how the homes of the elderly could be made safer.
Local election candidate John O'Donnell from Kilmacrennan said he had met with Martin Hilferty from Orbit Security in advance of last night's meeting.
He had been assured by the security company owner that he will supply alarms to the elderly at cost price.
Others argued about the benefits of installing lights.
Businessman and former politician Jim Devenney from Newtown revealed he had been a victim of theft and had lost €15,000.
He pleaded "These people up on this stage are the salt of the earth. They are in the twilight of their years and they do not deserve this.
"They deserve peace and quiet at this time of their lives and we must help them to have that," he said.
Other speakers included councillors Frank McBrearty, Tom Crossan, Michael McBride, Liam Blaney and Gerry Crawford.
The meeting became quite vocal when local Detective Garda Sgt Michael Galvin was asked how far people could go to protect their homes.
Sgt Galvin assured the crowd that a huge amount of resources was being put into catching the people behind the aggravated burglaries.
He revealed that he is a resident of Manor for ten years and that he would like nothing better than to see these "thugs" brought to justice.
"Some of our staff are even coming in on their time off to work on these cases," he said.
But he advised people that they must act within the law.
Other people from the floor said that while Gardai may be trying their best to bring offenders before the courts, the judiciary was letting them off with lenient sentences.
Three large buckets were also handed around which were filled generously in a bid to keep the campaign up and running.
Organiser Tony Morning declared that this was just the start of a long fightback by the community.
He finished by telling the meeting defiantly "The message should go out to these vermin, to this scum – come to our doors again and you will leave in a pine box or in plastic bags."
Tags: