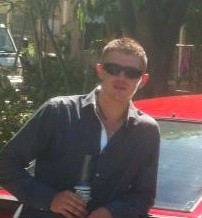 A JUDGE has ordered a man behind a cowardly attack outside a pub to come up with cash for his victim.
Richard Doherty, of Derryreel, Falcarragh, and pictured right threw a lousy punch at an innocent Carrigart man, outside a pub in Dunfanaghy on December 5, 2010.
Doherty, 22, was convicted in his absence last April. He was living in Perth, Australia, at the time.
However he returned to Co Donegal to hear the case as he appealed the harshness of his sentence – an order to pay his victim €4,800 in compensation, €4,000 for the injuries and €800 in medical expenses.
He was also fined €800.
Gda Brendan O'Connor told Doherty's appeal at Letterkenny Circuit Court that there had been a fight inside the nightclub. Gardai had contained the situation and discovered a group of Carrigart men had been assaulted by a gang from Falcarragh.
However later on, one of the people from Carrigart – Fergal Doherty – was standing outside when he was the victim of a total unprovoked assault. He was punched twice in the face and sustained a broken nose.
A solicitor for Richard Doherty said he had "matured considerably" since the incident, had returned to Donegal from Australia, but simply didn't have the funds to pay anything.
He faces 110 days in prison if he fails to pay the money.
But Judge Keenan Johnson told Doherty he must come up with "a substantial part of it" at the next court sitting on April 1.
He said Doherty must turn to family and friends if necessary.
At the original last April the presiding District Court judge said that if he was making laws, he'd argue to make the consumption of drink an aggravating factor in cases rather than a mitigating one.
Judge Conal Gibbons also remarked about how Doherty, from Derryreel but then living in Perth, hadn't appeared before the court in person whilst his victim, Carrigart man Ferghal Doherty had done so.
Gda Brendan O'Connor told the court, sitting in Letterkenny that a fight broke out outside a nightclub in Dunfanaghy in the early hours of December 5, 2010.
"The injured party and friends were attacked by another group of youths. The injured party had no part in the aggression whatsoever and was entirely innocent," said Gda O'Connor.
"He was struck in the face twice. The incident was viewed by me, the injured party and the accused on CCTV and the accused readily admitted his involvement."
Ferghal Doherty had suffered a broken nose in the incident, said the Garda, and required hospital treatment in both Letterkenny and in Sligo.
Richard Doherty's solicitor Fiona Brown, in mitigation, said that her client had left Ireland in October 2011. He was then working as a plasterer in Perth, Western Australia.
He had been in bother before, she said, but this was mainly road traffic offences with one public order conviction.
"His behaviour was shocking," said Judge Gibbons.
"I suppose this was about geographical areas? – two different parishes? – are we going back to that? it is quite outrageous."
The judge asked Ferghal Doherty about his injuries.
"I got over it anyway," said the victim.
Judge Gibbons said it was "an appalling state of affairs that someone can go out and do this to someone completely innocent.
"This speaks volumes about the modern age."
Commenting on Richard Doherty's presence in Perth and not before the court in Letterkenny at the time, the judge said: "There was a time when people sere went to Australia after a court case, not before a case appears before the court."
The judge went on: "In every town where there is entertainment at a nightclub or a large pub, these places have to have very big individuals suitably attired (bouncers) standing outside maintaining order. We are supposed to be progressing and evolving as human beings.
"If you spend time in court you would take serious issue with the theory of evolution."
When the solicitor said her client had consumed drink on the night in question, Judge Gibbons said: "The problem is with the human, not the drink.
"Your client has to lift it up and put it to his mouth. The drink was voluntarily taken by the client. Drink is an aggravating factor and not a mitigating factor.
"If I was writing laws in this country, I would amend the legislation to state that fact – that the court would see drinking as an aggravating factor.
"I'm very disturbed by your client's behaviour. I understand that Irish people have to go abroad but if he behaved like this in Australia they wouldn't tolerate it; in fact most progressive countries would not tolerate it
"Drink is an inert substance. The problem is not the drink – it's mixing the drink with the human."
Tags: