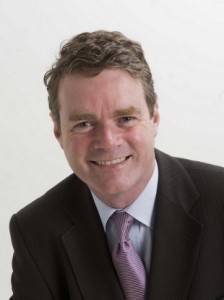 Green Party candidate for Midlands – North West, Mark Dearey, has criticised the remarks made by MEP Pat The Cope Gallagher in regard to the Government's failure to apply for funding from the European Union Solidarity Fund for storm damage.
Mr Gallagher and his colleagues in Fianna Fail all voted to cut the EUSF by 50%, despite knowing that as a peripheral Atlantic country, Ireland is highly vulnerable to a changing climate and could require funding from this source, said Dearey 
Commenting today, Mark Dearey said, "This really is a remarkable statement by Mr Gallagher. How he can rail against the Government for not applying for EUSF funding, when he voted in favour of cutting that funding and making it harder for Ireland to access it, is frankly beyond belief.
"Pat knew full well when he cast his vote just three months ago that his actions would make it harder for rural communities to access vital funding from the EU in times of hardship, and yet he's clearly hoping no one notices.
"Let me be absolutely clear about two facts: Firstly, there was no pressure on the EU to cut the budget, and in particular the EUSF budget. There was no insistence from bond markets for a cut.
"This was a nakedly political action by Fianna Fail, Fine Gael and Labour to appease David Cameron, as he attempted to solidify his right-wing against attacks from UKIP extremists. Secondly, not only did the Greens in Europe oppose these cuts, I would not, and if elected will not, vote to cut the budget for programs which provide funds for climate related clean up and reconstruction, and investment in climate mitigation strategies.
"The EU budget is up for review in 2016, and if elected, I will join my Green colleagues in voting to restore funding to the EUSF, taking account of the extremes in weather we are clearly facing into.
"Mr Gallagher needs to immediately come out and admit his mistake. He voted to cut money which could now be rebuilding our towns and cities across the country, and he did so fully aware that Ireland is ill-prepared to handle our increasingly wet and stormy climate. Clearly Fianna Fail have still not learnt that duplicitous politics is no longer acceptable and voters won't be taken in by it."
Irish MEPs who voted to cut the EUSF: Liam Aylward; Nessa Childers; Emer Costello; Brian Crowley; Pat the cope Gallagher; Marian Harkin; Jim Higgins; Sean Kelly; Mairead McGuinness; Gay Mitchell; Phil Prendergast.
Tags: