Sinn Féin local election candidate for the Glenties Electoral Area, John Sheamais O'Fearraigh, has called on Donegal County Council to make funding available to extend the local footpath infrastructure in the parish.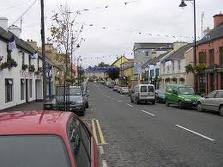 Mr O'Fearraigh called on Donegal County Council to explore the possibility of the extending the footpath network from Luinneach to Carrickmcgarvey to make it safer for pedestrians in the area.
"This stretch of road on the R257 is one of the busiest in the locality with children walking on a daily basis to the local national and secondary schools.
"It would also be used frequently in the summer months by students attending irish courses in the area. It is important that the infrastructure is developed to ensure the safety of locals and tourists alike who use this route.
"Over the years Donegal County Council has extended the footpath from Dore through to Bunbeg, Derrybeg and Srathmartin. By extending this footpath, it would connect to the existing infrastructure in the parish.
"Last month the Sinn Féin team on Donegal County Council refused to accept the cutbacks contained in the Council Budget for 2014. Instead, Sinn Féin recognises the need to invest in our local communities, by developing local infrastructure projects and creating employment in the process.
"I am calling on Donegal County Council to identify appropriate funding to develop this project, which would be a very worthwhile addition to the area."
Tags: