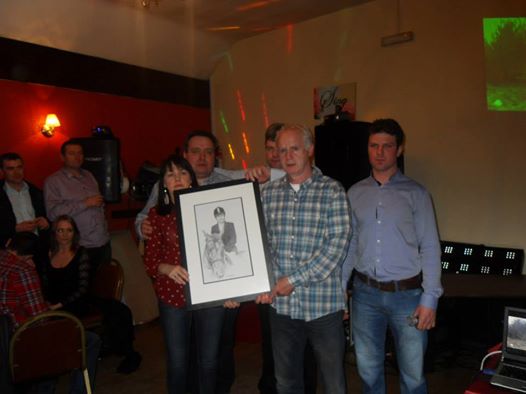 The inaugural Shane Brolly Memorial hunt will become the perpetual Shane Brolly hunt judging by the success of last weekend's event.
Over 60 horses ponies & riders with even more followers turned out to share a minutes silence called for by Shanes fellow huntsman and neighbour Simon Scott.
There was a fabulous days hunting through Shanes homeland with natural jump after jump snaking our way all the way to the Steeple and back and the man above kept the rain off for three unforgettable hours on horseback.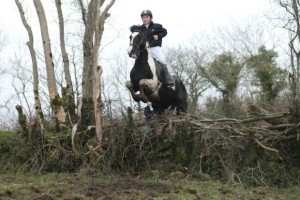 What a long way the hunt has come in a very short time . Week after week the building team has been inspired by ever increasing turnouts to deliver engaging courses at incredibly beautiful venues facilitated time and time again by landowners who have gone the extra mile to make us feel warmly welcomed everywhere we went not only letting us through good land in poor weather conditions but feeding the building team in their kitchens with lovely soup and fresh scones in the days leading up to hunt meets.
What has been superb has been the way the hunt has grown into such a warm cohesive social network where riders from 9 to 90 years with varying abilities from total beginners right through to Grand Prix riders have gelled to encourage tease cajole and "give leads" to get every rider a great day in the saddle and more importantly home safe.
The fuel for this hunt is the ever growing network of foot followers and photographers who turn out to support us and share & capture the "thrills n spills".
With horses and ponies fed and stabled we made our way to the end of season "Hooley in Friels". We said we would set Friels a rockin and we did!
With a turnout of 150 people Friels turned out a veritable feast of a buffet before a lively raffle was held with a great range of prizes which hunt Chairman Leslie Goudie had secured from a number of local businesses to each of whom the hunt is very grateful.
Huntsman Simon Scott stood forward and paid tribute to Shane in a heart rending address and invited Shanes parents Michael & Patricia forward to receive a portrait of Shane on horseback which the hunt had commissioned from local equestrian artist Marina Hamilton to a respectful standing ovation.
Men in Black fired up and Ronnie & Majella hit the floor and the younger riders jaws dropped and the Donegal & Tyrone Farmers hunts answer to Torville & Dean lit the fuse with a display of jiving that brought the crowd to the floor which never emptied til long after Men in Black followed by DJ John on the decks had finished their sets.
The hunt would like to thank Friels of Raphoe for the great hospitality on what was a night to remember. Working tirelessly in the background all season guiding us, motivating us, keeping us in line and above all keeping the finances of the hunt going on the correct trajectory has been our unsung hero hunt chairman Leslie Goudie.
Everyone would like to express our sincere thanks to Leslie who was man enough when the tide was at it lowest ebb to carefully pick & put a team together behind Simon and drive the Donegal & Tyrone Famers hunt forward from a difficult standing start to the vibrant dynamic friendly hunt it is today.
As we all return to our "normal lives" in the hunting "off season" we wish to thank every single person who has assisted us on our journey to date and we can absolutely promise you that we are already working hard planning to make the 2014/15 hunt season an even bigger success and will be announcing plans within the next 2 months in this regard.
Tags: