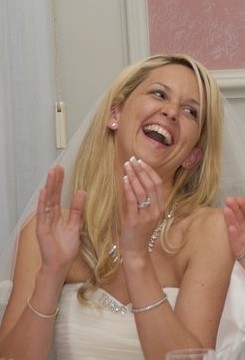 A DONEGAL mum has been awarded €25,000 in damages over a delay in the caesarean delivery of her baby which left her having a 'near death' experience.
Honey Larkin, who is 40 and lives in Churchill and is originally from Buncrana, had told the High Court in Dublin she nearly died.
By the time she was brought to an operating theatre at Letterkenny General Hospital in January 2008 for surgery to stop the bleeding she had lost more than half her entire volume of blood.
She has been suffering from post traumatic stress and has not recovered from the possibility she may have died.
The hospital – represented by the HSE –  failed to check or sufficiently check or to recognise the sign that she was bleeding profusely and losing substantial amounts of blood.
There was a failure to attach due significance and to take appropriate action in response to her distress signals.
By the time Ms Larkin underwent a second operation to stop the bleeding, she was in parlous state and had suffered massive blood loss and a near death experience.
She had told her counsel, Gerard Clarke, instructed by Callan Tansey Solicitors, that the experience was so traumatic, she and her husband had decided not to have any more children.
Ms Larkin had taken a second case against consultant gynaecologist at Letterkenny General Hospital, Eddie Aboud, for alleged negligence and breach of duty.
Mr. Justice Cross found the HSE liable for the delay which resulted in the 'near death' experience.
He also ruled that the HSE was responsible for the traumatic stress and psychiatric injury which flowed from the negligent delay.
The Judge also ruled that Dr Aboud should have been called to review the patient over three hours before the laparotomy to deal with the bleed when it actually took place. He awarded Honey Larkin €25,000 for the injuries occasioned on her due to the negligence.
However the judge ruled that he Dr Aboud could not have done anything by the time he was called – as it was too late – and that secondary case was dismissed.
Legally Mrs Larkin had sued both the HSE and Dr Aboud as she was a private patient at the time.
Tags: