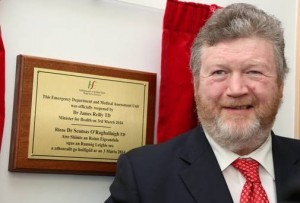 THE re-opening of the Accident & Emergency Department at Letterkenny General Hospital later this week following last summer's flood damage is "masking" a real crisis at the campus, stressed staff have told Donegal Daily.
The ground floor of the new medical block will re-open at 8am on Wednesday, marking a remarkable turnaround following the devastation of the flood.
Staff however insist there just aren't enough nurses – or beds – to cope anymore at the hospital.
Even Head Consultant in Emergency Medicine, Dr Sinead O'Gorman, told Health Minister James Reilly during his visit to the hospital last week they don't have enough staff to cope.
The staff who are there complain that they are effectively in "crisis management" all the time at a hospital which receives the least funding per patient of any other hospital in the State – often half the funding of hospitals in Cork and Dublin, and a third less than patients attending Sligo Regional Hospital.
"There are too many people with clipboards in the place telling us to get on with it," warned one experienced nurse.
"The fact is we don't have enough staff and we don't have enough beds so we may be moving back into new facilities, but we will be having the same old headaches with overcrowding."
The medic predicted that there would "inevitably be a repeat" of previous incidents at the hospital where elderly patients had to be left on trolleys, often for many hours.
"There's a lot of spin and gloss about the hospital," said another senior medic.
"No-one wants to be seen criticising a hospital; but this is not directed at staff. They're incredible and they work extremely hard to keep things going but it is all going to crash again and the real fear is that we lose a patient because of it.
"Our politicians need to stand up for us more. Simple as that. And their words should never be seen as a criticism of staff but as a support for them."
Morale at the hospital is low, according to other staff members.
Many critical posts remain unfilled; some staff have left and returned as locums.
And student nurses continue to work hard, knowing that there won't be a decent job for them in Letterkenny at the end of their studies – with a plane ticket out of Ireland their best option.
"People outside the hospital need to know what's going on inside it," said another medic.
"It might look great; but a building is no use to anyone without the people to staff it."
Tags: