Buncrana GAA Notes for Week Ending Sunday 16th March 2014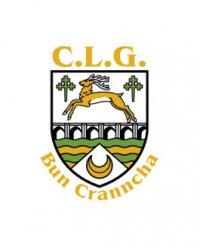 Míle buíochas to our new Culture Officer, Deirdre, for all her initiatives for Seachtain na Gaeilge, including Ciorcal Cómhra, Photographic Competition, Focail an Lae on Facebook and all her hard work in organising our St Patrick's Day float and the hugely enjoyable event afterwards in the Clubhouse. Thanks also to all those who helped her to make the Seachtain such a success and looking forward to loads more cultural events and initiatives in the future. Maith thú!
Seniors, Minors, Under 21's and Reserves Hurling training is on this week, Wednesday 7.30pm and Friday 7.30pm. All players are urged to make every effort to attend.
Senior, Reserves, U-18, & U21 Football training is on Tuesdays & Thursdays at 7.30 in Scarvey. All players are asked to turn up as the new season is coming near. New players welcome too!
Senior Ladies training every Wednesday at 7.30 in Buncrana Youth Club. New members always welcome.
Under Age Training
U6 Football 6.30-7.30pm Friday Crana College
U8 Football 4-5pm Saturday Buncrana Youth Club
U8 Hurling 5-6pm Saturday Buncrana Youth Club
U10 Football 6-7pm Friday Buncrana Youth Club
U10/U12 Hurling 7-8pm Wednesday Crana College
U12 Football 7-8pm Monday & Friday Scarvey
U14 Football 7-8.30pm Tuesday & Friday Scarvey
U14 Hurling 7-8.30pm Tuesday & Thursday Scarvey
U12/U14/U16 Girls Football 7-8pm Mondays Scarvey
U14 Football Buncrana A vs St Eunan's played on Saturday 15/3/14. A comfortable win on Saturday to put the A team back on course.
Carndonagh vs Buncrana B played on Sunday 16/3/14. The Buncrana boys battled well again this week and only trailed a good Carn side by 2 points at half time. However, in the second half with the wind behind them, Carn pulled away and won easily. Still though, great improvement and determination was shown by all the Buncrana squad.
U14 this coming week: Buncrana B are at home to Malin and Buncrana A are away to Termon.
Parish League continues – League standing and fixtures on Club Og Facebook.
Comhgairdeas do Crana College's U14's who, with a large Buncrana contingent, won 2-5 to 1-7 against St Clare's Cavan and are now Ulster Champions……well done to all the team and management!
Membership registration Please note if you or your child is a player/coach you must pay membership for insurance purposes. If you wish to be considered for ticket allocation for the All Ireland series of matches your membership must be paid by 25th March.
NB:- Membership does not guarantee match tickets and only adult members can be considered for ticket allocation. Please see our Facebook page, Website and notices in The Clubhouse for membership fees, or contact secretary.buncrana.donegal@gaa.ie if you have any further queries or contact Claire (0863340965) or Grainne (0864650200).
Branded Gloves Elizabeth Anne has ordered Buncrana branded gloves. She wants to remind all managers to inform their player's parents of this fact and that she is taking orders for them now. They should be available in 2 weeks, various sizes.
Please contact Elizabeth Anne on 0860604075 to place orders or ask any questions.
Adh mór to Club member Lauryn Mullholland who is in the Highland Radio Talent Competition Final on Sunday 23rd at the Grianan Theatre Letterkenny. Please remember to Vote…the number is 57252 and check her performance out on Youtube – http://www.youtube.com/watch?v=6wfXZ6d3Q7k&list=PLHxxx4ozD_nHBC3QKizMVFrT5qNndR1Me….a former Scór na nÓg winner and a rising star.
Condolences to Pat McMyler & family from all club members on the death of his father. Ar dheis Dé go raibh a anam.
Congratulations to Dermot Lavin & his wife Susie on the birth of their baby boy.
Club Notes: Anyone who would like to receive a copy of the weekly club notes should email Jim at buncrana.pro@gmail.com to be included on the mailing list. If you have any items which you think should be included in the club's weekly notes, please email Jim at buncrana.pro@gmail.com by 6pm on each Sunday for consideration. To keep up to date with all the latest goings-on, please join us on www.facebook.com/buncranagaa or www.twitter.com/buncranagaa @buncranagaa, or visit our website www.buncranagaa.com.
Tags: