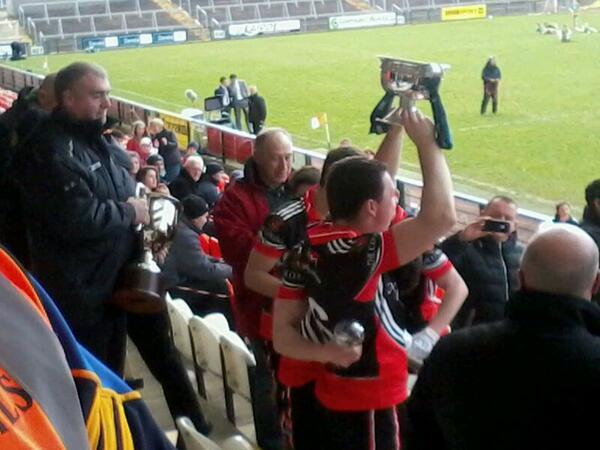 ST EUNAN'S College lifted the MacLarnon Cup in an historic St Patrick's Day derby final against Coláistí Inis Eoghain in Armagh today.
The excellent Niall O'Donnell won a crucial penalty in the dying embers of the game before adding a point himself to see the Letterkenny college crowned Ulster Champions in Armagh.
The Inishowen lads led by a single point at half-time after racing into an early lead, county star Darach O'Connor finding the net with a goal at the start of the half.
St Eunan's steadied themselves; tight battles across the pitch throughout the opening half, David Tyrell and Darragh McDaid scoring from play and Sean Hume scoring twice from frees.
And it was Hume's kicking which saw St Eunan's take the lead for the first time, early in the second half, pointing again for the Letterkenny side after Danny Monagle was black-carded for the peninsula lads and replaced by Coyle.
Jordan McBride also pointed for Eunans before Kevin McLaughlin levelled matters again at 1-03 to 0-06, Eunans cursing five scoreable chances which went wide.
John Campbell pointed to edge Inis Eoghain back in front before Kevin McLaughlin did the same with a few minutes left to put them 1-05 to 0-06 ahead.
Just as it looked as if Inish Eoghain were heading for victory, St Eunan's won a penalty as Niall O'Donnell was hauled down going in on goal and Darragh McDaid made no mistake from the spot kick to put the Letterkenny side back in the lead 1-06 to 1-05.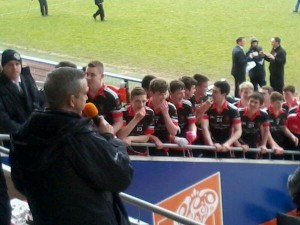 O'Donnell then added a point himself to see the town side home 1-07 to 1-05.
It was a fantastic advertisement for Donegal colleges football and while the Inishowen lads will make their way home thinking about what might have been, they can hold their heads up high.
The celebrations however are in Letterkenny as St Eunan's take home the MacLarnon Cup for the first time since 2007 when a certain Michael Murphy was on the scoresheet four times.
Man of the Match: Conal O'Boyle (St Eunan's)
Inis Eoghain : Jordan McLaughlin, D Monagle, J O'Loughlin, S O'Donnell, G Doherty, T McClenaghan, S Doherty, C McGonagle, F Doherty, M Coyle, D O'Connor, S McHugh, K McLaughlin, J Campbell, S MacCathmhaiol, S McLaughlin, J Jackson, A McCarron, C McLaughlin, U Doherty, A McLaughlin, O McColgan, James McLaughlin, Jonathan McLaughlin, D McCarron, T Sullivan, T Byrne, G Kelly.
St Eunan's : S Patton, C Morrison, D McWalters, C O'Boyle, D McMonagle, C O'Donnell, S McDonagh, D Clarke, J McBride, C Callaghan, D Tyrrell, O Carr, N O'Donnell, S Hume, D McDaid, S Daffan, D Gillespie, M Miller, C Cannon, R Carr, O Shields, P Doherty, M Friel, J Gallagher, C McDaid, C Mellet, R Toner, P O'Malley.
Tags: