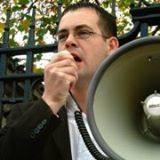 Sinn Féin Finance spokesperson Pearse Doherty has said questions remain to be answered on how Merrill Lynch underestimated the cost of the bank guarantee by some €60 billion.
Deputy Doherty today released a 2008 Merrill Lynch report to the Irish Government that he received through a freedom of information request. The report has been published on his website.
The Donegal Deputy also said Fianna Fáil and the Green Party, who were in power at the time, must tell the people why they kept quiet about the state's exposure resulting from the banking crisis.
He said: "We are on the brink of a banking inquiry, yet the Government still refuses to release information into the public domain pertaining to the banking collapse in 2008. I sought a number of pieces of information about the banking crisis under Freedom of Information. Of the 24 documents I requested, 20 were denied. Six years after the banking collapse, the public deserves to know who knew what at the time and what sort of information was available.
"In November of 2008, Merrill Lynch was telling the Irish Government that the capital hole in the banks would cost€16.4 billion. Two weeks earlier, it had estimated €8 billion. We know now that the capital hole was actually closer to €80 billion, over €64 billion of which was met by the taxpayers. How did Merrill Lynch get these figures so wrong?
"It's unbelievable that consultants such as Merrill Lynch and the auditors of Irish banks have not had to answer for their roles in the banking crisis. Last week I wrote to the Chartered Accountants Regulatory Body to ask them to investigate the role KPMG had played in the auditing of Irish Nationwide and any potential conflict of interest as members of that agency now act as Special Liquidators to the successor of Irish Nationwide, IBRC.
"Questions need to be answered by Fianna Fáil and the Green Party as to why they kept people in the dark about the exposure of the State resulting from the banking crisis, given the information we now know was available to them in October and mid November 2008.
"Furthermore, any inquiry into the banking collapse needs to also look at the role of external consultants and the role that auditors and other advisors played. The Irish taxpayer is carrying the legacy of this crisis in austerity and hardship and we need to start getting answers on why certain information was kept secret and who was accountable."
Tags: