Earlier today Finn Valley AC athlete Dempsey McGuigan beat his own club, Donegal and Ulster record – on six different occasions.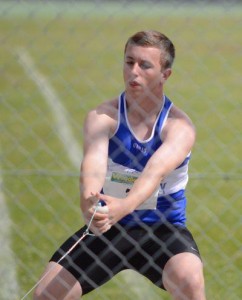 Competing at Oxford , Mississippi, Dempsey got the hammer out 6 times beyond the current record he set in 2013 at Watford of 63-30 .
His new encouraging series of record-breaking throws was 65-44,65.20,66.15,65.21,65.80,66.39.
He began an athletics scholarship with University of Mississippi in January and this sets him up extremely well for the season ahead.
Tags: