The Bumbleance Children's Ambulance project is seeking walkers and joggers to take part in the North-West 10K.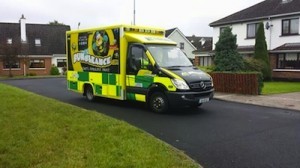 The service helps families in Donegal bring very special little passengers to hospital and treatment centres around the country.
They are trying to organise volunteers to take part in the NW 10K to raise much-needed funds. Those interested in raising funds can get sponsorship cards from 086 2740777.
Among the many patients to benefit from the Bumbleance Service was little Jack Beatie Buchannan who celebrated his 3rd birthday this week.
So if you haven't signed up to a team or a sponsor, why not give the Bumbleance team a call. It's a great cause.
Tags: