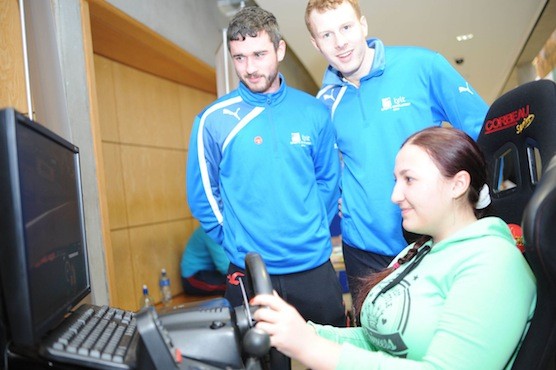 Nicu Alexandra, a third year Marketing student, part of the Erasnus programme, at LYIT is pictured attempting to set a a satisfactory time on one of the drive simulators on campus at LYIT as part of the 'Road Safety Awareness Week'.
The 'Room to Race' is a simulator product which gives the students a chance to test their skills under the supervision of the instructors provided.
On first attempts most of the group failed to use the brake with sufficient frequency added with the complications of poor road positioning, thankfully many sought to re-sit the simulator experience thereby gaining an improved level of performance.
Watched by students Cory Gallagher and Donagh O Callaghan, both Business with Sports Coaching students, Nicu managed the best time of the day, on her second attempt.
There will be many other projects on display during Road Safety Week at the LYIT this week.
(photo by Paddy Gallagher)
Tags: