IT'S May 23, 2001 and Alan Shatter is in Opposition – and he's making very serious allegations about Garda corruption in Donegal…involving allegations of bugging.
The Justice Minister was John O'Donoghue (Fianna Fail) – and he was having none of it.
"Will the Minister confirm that there is an allegation that gardai in Donegal were bugging conversations between solicitors and clients?" asked Alan Shatter.
The Minister refused to budge; refusing to answer any questions despite being badgered by the Fine Gael TD.
In fact Minister O'Donoghue accused Deputy Shatter of making "ill-tempered, outrageous and unfounded" allegations.
But Deputy Shatter insisted: "This is a scandal of enormous proportions about which the Minister had done nothing since taking office."
The record of the Dail exchange is below…..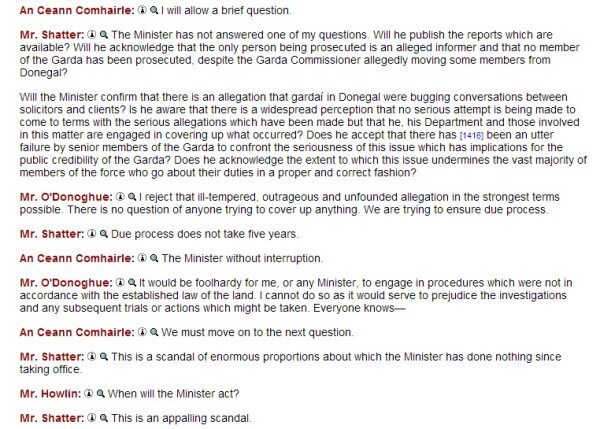 Tags: