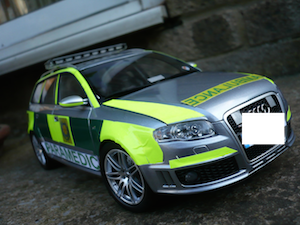 MANAGERS in the ambulance service in Donegal are provided with €100,000 response vehicles which are rarely used, a shocking TV documentary has revealed.
The Prime Time investigation team – led by reporter Oonagh Smyth – also shone the national spotlight on the dreadful final hours of Carndonagh pensioner Maura Porter, who died after waiting more than 50 minutes for an ambulance.
That was a story first highlighted here on Donegal Daily.
But set against managers effectively using fully-equipped vehicles as company cars, it made last night's revelations even more shocking.
Costing around €100,000 each, 60 of the kitted-out cars are designated to officers as 'Officer Responder Vehicles'. They're allocated to senior managers who have paramedic training.
Though officially they're 'on call', the programme revealed that "they can be parked up for an entire day while managers attend meetings."
The investigation team tracked use of the cars over several months. There were some eye-opening revelations:
A senior officer, based in Phoenix Park took his emergency vehicle home four nights a week to Donegal.
A Donegal officer took his car home every night to his home in Derry.
Statistics showed these 60 vehicles across the country were used ONCE every THREE WEEKS for responses to emergencies.
Maura Porter's son Brendan also spoke to Prime Time saying he thought the ambulance service was just broken in Inishowen and Donegal before realising it was broken throughout the State.
Sinn Fein's Martin Ferris was furious last night
"I didn't need a Prime Time programme to tell me that the ambulance service is understaffed, under pressure and unable to provide adequate services, however I congratulate the programme-makers for highlighting this crisis," he said.
"Some of my own constituents have suffered as a consequence of this situation. I am not surprised that Prime Time Investigates has found that only one in every three people with life-threatening conditions were responded to by an ambulance service within the target time last year.
"The plain truth of it is: we don't have enough vehicles or enough trained staff to provide a proper emergency service. A glance at the figures, compared, for example with the North, shows this.
"In the North there are 57 ambulances for six counties, in the South there are only 87 ambulances for the entire 26 counties.
"The centralisation of the call-out services has proven a disaster. Many people's lives have been placed in danger by sending ambulances not alone to the wrong area but to the wrong county.
"I have nothing but admiration for the people who are trying with dedication and diligence to work within this under-resourced service.
"The response time targets are not being met because of a lack of staff, inadequate infrastructure and insufficient funding. The Minister for Health must act to ensure that proper resources are dedicated to providing a safe service all over the state. This is, in reality, a matter of life and death."
Tags: