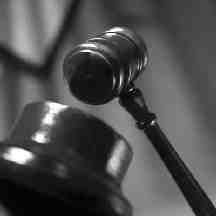 A mother, who was knocked down along with her four-year-old daughter by a drunk driver from Donegal, has called for a safety review of the beach in County Derry where it happened.
Paul John Doherty, 31, from Ballynahone in Fahan, Donegal, was sentenced on Monday to 21 months in prison. 
He pleaded guilty to seven motoring offences on Benone beach and at Seacoast Road on 21 July 2013.
Diane Wilkinson's daughter Abbie sustained a broken collar-bone in the incident.
Mrs Wilkinson and her husband, Richard, have asked Limavady Borough Council to review safety measures on the beach.
"Everything happened so fast," Mr Wilkinson told BBC Radio Foyle.
"We were down at a caravan and we went a walk on the beach before we went home.
"He just missed another child. Our Abbie had a black eye and was badly shaken. She lost consciousness in the ambulance too at one stage."
Diane Wilkinson told Radio Foyle: "You don't expect this to happen on a beach. You don't think it will happen to you.
"Our other son witnessed the whole thing and he had nightmares. He had to go to counselling classes and was wetting the bed at one point.
"We have been back to the Magilligan end of the beach since but it was at a quiet time.
"It took Abbie half an hour before she get out of the car. It was horrible.
"When she did get out, she didn't want to walk on the beach, she had to be carried.
"I don't mind cars being on the beach but someone needs to be there watching them. A safety review is needed.
"It's one of the best beaches on the north coast but it needs to be patrolled better. I wouldn't want this happening to anyone else."
Mr Wilkinson said of Doherty: "The man wasn't a young inexperienced driver. He's 31. He should've known better."
Tags: