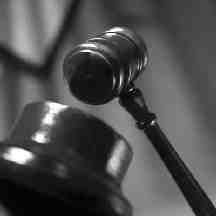 A CO Donegal solicitor who blew €177,000 of his clients' monies to top up his pension and pay his household bills has lost a bid to keep his identity secret.
Andrew G Morrow, practising as David Wilson and Co Solicitors, Raphoe, has been found guilty by the law society of dishonesty in his practice.
He admitted using money from the firm's client account for his personal pension contributions, health insurance, home bills, credit card payments and his mother's care costs.
He also admitted trying to hide the losses and was attempting to pay the money back by taking out a loan.
Mr Justice David Keane froze the solicitor's bank accounts and Morrow agreed not to practice as a solicitor to all legal proceedings had ended.
Nessa Bird for the Law Society told a Dublin court that the society's investigation of Morrow's practice revealed a minimum deficit of €177,657 in the client account. She said the society had been unable to ascertain the full amount of the deficit as the practice's books of account had not been properly written up.
The society had also discovered that Morrow had attempted to conceal the deficit by recording various sums as being loans to him when they were client funds.
A lawyer for Morrow, Sean Sexton, said his client intended to wind down his practice and had obtained various loans to cover the deficit.
The Law Society opposed an application from Morrow to remain anonymous until all proceedings were finished.
Mr Justice Keane dismissed the anonymity application, said nothing had been put before the court that would merit having the hearing being conducted in private.
Tags: