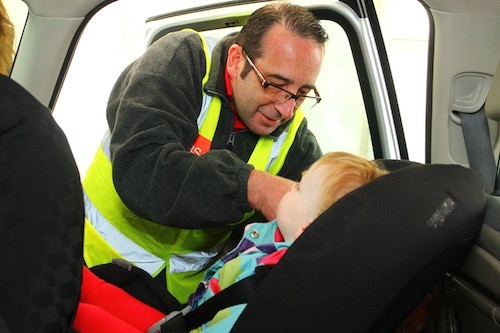 Is your child safe in your car? 
'Check it Fits' Service are providing free checks in Donegal this month to see if car seats are fitted properly.
As many as three out of four child car seats may not be fitted properly, increasing the risk of death or serious injury to children in the event of a road traffic accident.
This is the message that is being driven home by Road Safety officials as they launched the 'Check it Fits' Service across Donegal this month.
Road Safety Authority (RSA) has a new, full-time, nationwide, free expert service to help parents, grandparents and guardians to choose the right child seat or restraint and fit it safely and securely in their cars.
The service 'Check it Fits' will be visiting Donegal locations at –
• Lidl, Letterkenny Roundabout, Donegal Town on Thursday 17th April from 10am – 5.30pm
• Letterkenny Shopping Centre, Port Road on Friday 18th April from 10am – 5.30pm
• Aldi, Neil T Blaney Road on Tuesday 22nd April from 10am – 5.30pm
• Forte Shopping Centre, Neil T Blaney Road on Thursday 24th April from 10am – 5.30pm
Donegal Road Safety Officer Brian O'Donnell commended the service and said it was an opportunity to give parents peace of mind and that it shouldn't be missed.
"The Check it Fits Service aims to ensure that child seats are properly fitted in cars. This is a fantastic service and is fast, convenient and free of charge.
"It is great to have the service available for a number of days in Donegal and is a fantastic opportunity that should not be missed by parents and guardians, to have their child car seats checked by trained experts and give them the peace of mind that their child is travelling safely."
The RSA's team of experts will check child car seats and restraints to see if they are correctly fitted at a designated area in the car parks of the locations listed above.
If child car seats or restraints are incorrectly fitted, the experts will advise on how to fix the problem, demonstrate how to fit the restraint correctly and answer any queries you might have. The checking process takes about 10-15 minutes and is free of charge.
"For more information on where 'Check it Fits' are taking place visit the RSA's website www.rsa.ie/checklist fits, on Facebook www.facebook.com/RSAIreland and Twitter twitter.com/RSAIreland
For more information on Child Safety in cars visit www.rsa.ie/childsafetyincars
Tags: